Controversial lake project suspended
By Li Jing (China Daily)
Updated: 2005-04-01 06:32
A controversial project laying a plastic cover at the bottom of lakes in Yuan Ming Yuan Park (the Old Summer Palace) to prevent water from seeping into the ground was suspended yesterday after a one-week public outcry.
It was estimated that the project would save more than 1.5 million cubic metres of water annually for the heritage site when finished, but ecologists and environmental guardians claimed it would bring an "ecological disaster" to the park, an imperial garden in the northwest of Beijing.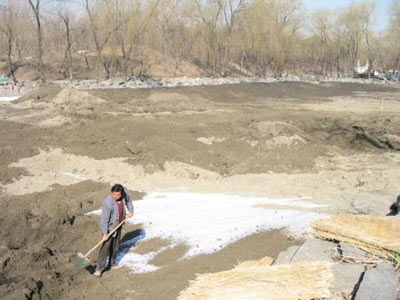 A worker works in the Yuan Ming Yuan lake. [People's Daily]
They said the impermeable cover would reduce the natural flow of water and turn the lakes into "dead pools" while affecting Beijing's underground water supply.
The Beijing Municipal Environmental Protection Bureau announced on Wednesday that the project did not get approval from any environmental protection authorities.
It has not yet been decided if the project will be disbanded or continue at a later date.
The "illegal" scheme, which started in mid-February and would have soon been finished, was first publicly questioned by an ecological professor from Lanzhou, the capital of Northwest China's Gansu Province.
The professor, Zhang Zhengchun, visited Yuan Ming Yuan on March 22, World Water Day, only to find that water in most of the lakes had been drained out. Throngs of workers were busy covering the lake beds with a layer of white plastic film that will not decay even if buried underground for more than 80 years.
"The project is a disaster to the surrounding ecological environment and to the heritage site itself," said Zhang.
The old park, built from 1709 onwards and burned down by British and French troops in 1860, is a State-protected heritage site.
Mei Ninghua, director of the Beijing Municipal Bureau of Cultural Heritage, told China Daily yesterday that any work on cultural relics should be cautious and should not destroy the original state.
The park's Administrative Office justified the project as a last resort to save water, as more than 2.5 million cubic metres of water from the lakes seep into the ground every year.
Zhu Hong, vice-head of the office, said most of the lakes were on the point of drying up for more than seven months each year.
(China Daily 04/01/2005 page3)
Today's Top News
Top China News

Beijing invites KMT chairman to visit mainland




FM: History distortion no small beer




Sponsors in starting blocks for 2008 Games




Inspections find more Sudan I food




Pope in sharp turn for worse with fever




Terri Schiavo dies, but debate lives on