Indonesia death toll revised to 400-500
(Agencies)
Updated: 2005-03-31 17:33
Aid workers rushed food to quake-stricken Nias island and tried to restore running water Thursday, while rescuers continued to pull survivors from the rubble of the region's latest earthquake. The government lowered its estimated death toll to between 400 and 500.
Survivors living under tarpaulins since Monday night's 8.7-magnitude quake said they were going hungry, but in signs of hope, rescuers pulled a 13-year-old girl alive from a collapsed five-story building, and a baby girl was born in a makeshift hospital.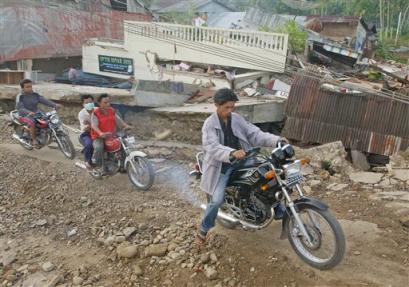 Motorcycles climb a severely damaged road, Thursday, March 31, 2005, in Gunung Sitoli on Nias Island, Indonesia. U.N. aid agencies are rushing to assist survivors of Monday's earthquake, which killed up to 1,000 people and left survivors short of food, petrol and fresh water. [AP]

Indonesia's president visited the remote island, which bore the brunt of the earthquake in the same Indian Ocean region where an even-larger quake three months earlier triggered Asia's tsunami catastrophe.

Gunung Sitoli remained without power and running water Thursday, as islanders and rescuers frantically searched through destroyed buildings for survivors, bodies and belongings as aftershocks continued to rattle the area.

Under a tarpaulin on the grounds of a mosque, Yusman Gule had no water to mix with his meager dried food, so he fed 6-year-old daughter Yumni with just the powder. She lost an ear, broke an arm and badly squashed her fingers in the quake but still managed to smile.

"Don't leave us here to die," the father said. "It's difficult to find food. All we can do is beg."

Later Thursday, a crowd of hungry and angry islanders mobbed Social Affairs Minister Bachtiar Chamsyah, demanding food. "You have been working so slowly," a woman yelled in images shown on Metro TV. "We haven't had any food since the quake."

Chamsyah pleaded for patience, saying food would arrive later in the day.

"The problem is distribution. We admit the distribution has been slow," he said later. "We can understand that people are dissatisfied, but thanks be to God the situation is getting better."

The baby girl born Thursday in Nias was delivered at an emergency hospital in a school staffed by Indonesians and Singaporeans.

Indonesian workers dug for five hours before pulling a 13-year-old girl from rubble where she had been trapped for 52 hours. She was unhurt apart from some scratches on her foot.

Red Cross official Herri Ansyah said the search for survivors would continue for several days, as it did after the Dec. 26 quake and tsunami. "In Banda Aceh, people were found alive after six days," he said.

The government said so far 279 bodies had been buried and the final toll would likely be between 400 and 500 across the disaster zone. Earlier in the week, the vice president predicted the toll could reach 2,000, and North Sumatra's governor had estimated that 1,000 died.

U.S. State Department spokesman Adam Ereli said U.S. naval ships and medical ships were steaming toward the battered islands.

Monday's quake struck under the sea off the west coast of Indonesia's Sumatra island. December's 9.0-magnitude quake that triggered the tsunami struck further northwest along the Sumatra coast.

The latest earthquake did not produce a tsunami, but villagers close to its epicenter said it did unleash damaging waves.

In Singkil, a town of about 5,000 on the western coast of Sumatra island, a wave up to 6 feet high powered inland up to 200 yards, residents said Thursday, washing away several houses and inundating the port area. It was unclear whether the wave was a tsunami or an unusual tidal surge.




Today's Top News
Top World News

Paper-making giant probed for illegal logging




KMT, CPC parties open historic dialogue




Chemical tanker crashes, killing 27




China to curb surging investment




China lifts 50-year ban on student marriages




Beijing court hears wrangle on Viagra patent