Lebanonese PM stalls on resignation
(Agencies)
Updated: 2005-03-31 14:23
Lebanon's pro-Syrian premier-designate Omar Karameh stalled on his plan to resign in the latest setback for efforts to form a new government to organize elections due in May.
The opposition, meanwhile, gave a cautious welcome to Syria's pledge to the United Nations to complete a troop withdrawal from Lebanon ahead of the parliamentary polls.
Karameh said he first needed to consult his allies in the pro-Syrian camp before giving up on efforts to form a national unity government in the wake of the February 14 assassination of former premier Rafiq Hariri.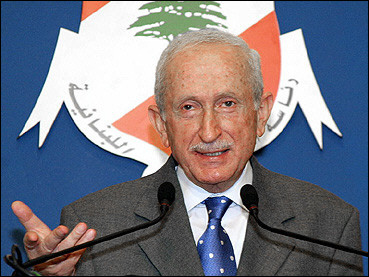 Lebanon's Prime Minister Omar Karameh talks to the press after his meeting with Lebanese President Emile Lahoud at Baabda Presidential Palace near Beirut. Karameh stalled on his decision to abandon efforts to form a new government. [AFP]

"I have informed Mr. Lahoud that I am preparing to announce my decision," he said after talks with President Emile Lahoud.

"But I will only do so within the next 48 hours so as to consult with my allies," said Karameh, who had announced Tuesday that he planned to stand down, throwing in the towel for a second time since the killing of Hariri.

A source close to the pro-Syrian Shiite movement Amal said the meeting would take place on Friday.

After his talks with the president, who is also in the pro-Syrian camp which has been blamed for the murder of popular former premier and construction tycoon Hariri, Karameh denied any rift with Lahoud.

Newspapers reported Wednesday that differences had emerged between the two men following a meeting on Sunday between the president and the Maronite Christian patriarch, Cardinal Nasrallah Sfeir.

The opposition, meanwhile, is to meet Thursday at Hariri's residence in Beirut to discuss the formation of a "neutral" government to oversee elections, opposition spokesman Wael Abu Faour told reporters.

He accused the government of using "delaying tactics".

Karameh has been operating on a caretaker basis since first resigning on February 28 in the face of massive opposition protests over the killing of his rival Hariri.

On March 10, Lahoud asked him to try to form a new government.

The opposition has accused the outgoing government of seeking to postpone the elections for fear of being swept aside by the wave of anger over Hariri's murder.

Key power-broker Damascus said Tuesday in a letter to UN chief Kofi Annan it would withdraw its remaining troops in Lebanon -- which Foreign Minister Faruq al-Shara said number 10,000 -- before the elections.

Another opposition spokesman, Samir Abdel Malak, welcomed the pledge.

"It is a positive decision but we await confirmation by the UN envoy," he said, referring to Terje Roed-Larsen, tasked with overseeing implementation of Security Council 1559 which calls for a Syrian pullout.

A US State Department spokesman said there was a clear consensus among the international community that Syria should "urgently" withdraw from Lebanon in order for the Lebanese to hold elections "untainted by foreign interference".

Syrian President Bashar al-Assad, in an interview to News, an Austrian weekly, said he intended to implement the UN demands rapidly but stressed the withdrawal was launched way back in 2000 rather than under international pressure.

A Syrian economic official, Abdallah Dardari, quoted in An-Nahar newspaper, said the focus in the future would switch to economic and social links between the two neighbouring states, rather than military ties.

Around 3,000 people demonstrated Wednesday against alleged US meddling in Lebanon's political crisis at a rally organized by the Syrian-backed Shiite movement Hezbollah outside the American embassy north of Beirut.

A general strike called by traders in protest at the string of bomb attacks and hoax alarms that have rattled the economy was observed by most shops in the capital.

Three bombings have targeted Christian neighbourhoods since Hariri's assassination, killing three people and wounding 17 others.

Meanwhile, for the eighth consecutive day the Syrian army continued to dismantle positions in the Bekaa valley as it pressed on with the troop pullout demanded by the international community, with dozens of military trucks and vehicles seen heading for the border.

A giant portrait of Assad and Lahoud pictured side-by-side was taken down in the town of Baalbek by officials from the Lebanese branch of Syria's ruling Baath party.




Today's Top News
Top World News

KMT, CPC parties open historic cross-Straits dialogue




Chemical tanker crashes, killing 27




China to curb surging investment




Beijing court hears wrangle on Viagra patent




71% of Chinese women sexually harassed?




Online voters oppose Japan's new role