US might permit ICC trials for Sudan suspects
(Agencies)
Updated: 2005-03-31 12:49
The United States would allow the International Criminal Court it fiercely opposes to try perpetrators of atrocities in Sudan's Darfur region if it can ensure Americans would not be prosecuted by the court, U.S. officials said on Wednesday.
It appeared unlikely that all the U.S. demands would be accepted by the at least nine nations expected to vote for a French-proposed U.N. Security Council resolution giving the ICC jurisdiction in Darfur.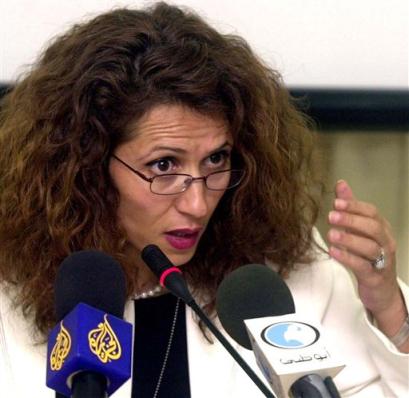 Spokesperson for the United Nations advance mission in Sudan Radhia Achori talks to the media in Khartoum, Sudan, on Wednesday, March 30, 2005. Three african Union staffers were shot and wonded two days ago in south Darfur state of western Sudan, but Achori vowed this would not deter the African Union from carrying out its mission in the region. [AP]

The Bush administration is in the difficult position of either swallowing some of its qualms about the ICC or vetoing a resolution to prosecute people for the pillage, slaughter and rape in Darfur that Washington itself has called genocide.

No one expects the United States to vote in favor, but European envoys, who are strong supporters of the court, hope Washington will abstain and not use its veto power in exchange for some changes in the text.

"We are trying to find language that we would find acceptable. We're trying to make the resolution work so that we can avoid a train wreck," said one U.S. official.

France, backed by Britain, agreed to delay a vote on the resolution until Thursday in hopes of averting a U.S. veto.

Diplomats said France had revised its resolution to meet some U.S. concerns and council member governments were studying the text overnight. But a senior envoy said most of the council was willing to risk a U.S. veto rather than undermine the ICC.

The envoy also said concessions to the United States needed to be limited to the case of Sudan because the Security Council should not change ICC statutes ratified by 98 countries.

"We would like a deal tomorrow. ... We're going the extra mile," said a senior Bush administration official. "But if we cannot work out protection for American nationals then obviously we're not going to be able to go along with it. There is always the possibility of an American veto."

Nine of the 15 council members have ratified the treaty establishing the ICC, the world's first permanent criminal court set up to try individuals for genocide, war crimes and gross human rights abuses.

Over the last two years, at least 180,000 people have died from fighting, hunger and disease in Darfur. Rape is common and more than 2 million people, mainly African villagers, have been forced out of their homes by Arab militia.

The council can refer cases to the ICC, based in The Hague, if the country where the crimes occurred is unwilling or unable to bring perpetrators to justice. The Bush administration opposes the ICC, fearing its citizens would be targets of politically motivated prosecutions, and is not a party to it.

U.S. officials described three "protections" they want for their citizens in order to permit ICC jurisdiction in Sudan.

The first would exempt foreign forces in any peacekeeping mission for Sudan from ICC jurisdiction and would allow them to be tried only by their national authorities, something the Security Council reluctantly backed for peacekeepers in Liberia in 2003.

The second, and most controversial, would allow the United States to opt out of ICC jurisdiction over war crimes for its peacekeeping forces throughout the world for seven years.

Parties to the ICC's founding treaty have such a seven-year opt-out for war crimes and the U.S. officials argued they should have the same right without, however, conceding their forces would be subject to its jurisdiction after seven years.

But diplomats said its was highly unlikely that the nine council members who have ratified the court's treaty could take a decision that they feel belongs to all members of the court.

Third, the United States wants guarantees it would not be asked to cooperate with the ICC in ways that violate limits on such cooperation imposed by U.S. law. U.S. officials said there was little opposition to this from other nations.




Today's Top News
Top World News

KMT, CPC parties open historic cross-Straits dialogue




Chemical tanker crashes, killing 27




Beijing court hears wrangle on Viagra patent




71% of Chinese women sexually harassed?




Online voters oppose Japan's new role




Red dye a 'food for thought' for Chinese