Red dye a 'food for thought' for Chinese
By Hu Yan (Shanghai Star)
Updated: 2005-03-31 11:21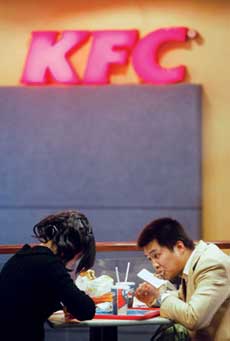 A couple enjoy KFC food in a Shanghai KFC outlet. [shanghaistar]

The word "Sudan" was not particularly familiar to Chinese, before a food crisis encompassing hundreds of different food products that were found to be contaminated with an illegal industrial dye called "Sudan I" began in February this year.

On February 18, the British Food Standard Agency announced a list of 459 foods contaminated by the industrial dye. As a large-scale food recall began, involving multinational companies such as Heinz and McDonalds, the illegal dye quickly became a worldwide focus of attention, with China not excluded.

In response to the food scare in Britain, General Administration of Quality Supervision, Inspection and Quarantine issued an emergency notice February 22 requiring inspectors nationwide to strictly check suspected imported and exported food products.

The campaign soon escalated nationwide and penetrated into all food producing processes with the involvement of more agencies - the State Bureau of Industry and Commerce, the Ministry of Health and the State Food and Drug Administration.

As the examination continues, more food products have been found to be contaminated with the illegal dye. Beijing food inspectors discovered it in chili sauce produced by Heinz in Guangzhou and sold nationwide. Other contaminated foods, including chili powder, pickles, instant noodles and spicy radish from Guangdong, Zhejiang, Hunan and Fuzhou provinces were found in many cities, including Shanghai.

The food crisis came to a peak when KFC was involved, a chain with 1,200 outlets in 260 cities across China. Two popular KFC products were found to be contaminated with the dye by way of a flavouring powder.

As the food authority listed more food products contaminated with the illegal dye, the range of products continued to expand.

According to the latest news, the dye is also used in medicine capsules produced in Zhejiang, some 8,000 of which have entered Shanghai, according to Zhang Renwei of the Shanghai Food and Drug Administration.

"We have taken action since February, right after the food scare in Britain. And the investigation into the Sudan I dye is going well, with full co-operation from other government agencies," said Zhang.

The quick response to the problem also shows that the government has put food safety firmly on its agenda, after several recent nationwide food crises.

"Although I personally think the media is overplaying the illegal dye case, it indicates that people are gaining more awareness of food safety," said Associate Professor Cai Meiqin at the Shanghai Second Medical University.

Loopholes

The red dye Sudan I has advantages over other legal food dyes due to its effectiveness at making food brightly and permanently coloured. Yet due to concerns over its safety, the dye is definitely banned for use as a food additive in many countries.

In 1995, the European Union banned the use of the dye for such purposes. In 1996, China also banned the use of the dye in food.

This is not the first time that the industrial dye has been found in food, however. Since July 2003 - following the discovery of traces of Sudan I in chili powder samples in France - all dried and crushed or ground chili entering the EU must be accompanied by a certificate showing that it has been tested and found to be free of the illegal dye.

Although nearly a decade has passed, the dye is still used by illegal food manufacturers and the safety problem was left unattended in China until this February.

"This is due to the loopholes of food supervision and management in relevant government agencies," said Zhao Faji, honorary chairman of the Shanghai Nutrition and Food Association and an expert in food safety.

More than one government agency is involved in checking of the whole chain from raw material production to food consumption. "The multiple-supervisors and loose co-operation lead to inefficiency," said Zhao.

Since January 1, 2005, Shanghai has tested a new approach based on having food supervised by a single agency - the Shanghai Food and Drug Administration.

"Shanghai is the first city in China to try this, hopefully it will better ensure food safety," said Zhang.

Experts say the key factor causing the illegal dye to pass unnoticed into the food supply is that the testing measures and standards are not adequate in many areas of China. The testing equipment can also prove dauntingly expensive for relevant agencies.

Another problem is the technical difficulty of testing for the existence of the illegal dye after it has merged with food. "It's not hard to test whether a dye is Sudan I, but it can be quite difficult to detect a very small amount of food additives when they are combined with food," Zhao explained.

Until now, there have been no national standards to test for the dye in food - which means no food has ever been tested for whether it contains the illegal dye. Officials of General Administration of Quality Supervision, Inspection and Quarantine say the testing standards for Sudan I dye will be released in April and training will be delivered to testing staff.

The cost of testing for the dye, around 1,000 yuan to

1,200 yuan (US$120-145) per sample also deters many manufacturers away.

"The industrial dye may be screened in some major cities, but it's almost impossible to conduct such tests in small food-quality agencies scattered among counties and towns," said Zhao. In China, around 80 per cent of food producers are small or middle-sized, with only a small minority located in major cities.

The major enterprises that use raw materials contaminated with the illegal dye should take responsibility for consumers' health and safety, experts say.

KFC has said in a statement that it has required all raw material providers to ensure their products are free of the Sudan I dye. "At the very least, KFC should be allowed to inspect the ingredients going into the chili powder and honestly told where the raw materials are coming from," said Zhao.





Today's Top News
Top China News

KMT, CPC parties open historic cross-Straits dialogue




Chemical tanker crashes, killing 27




Beijing court hears wrangle on Viagra patent




71% of Chinese women sexually harassed?




Online voters oppose Japan's new role




Red dye a 'food for thought' for Chinese