KMT, CPC parties open historic dialogue
By Xing Zhigang, Song Wenwei (China Daily)
Updated: 2005-03-31 06:37
Beijing yesterday hailed the Koumintang's (KMT) historic mainland visit as the opening of a party-to-party dialogue between the KMT and the Communist Party of China (CPC).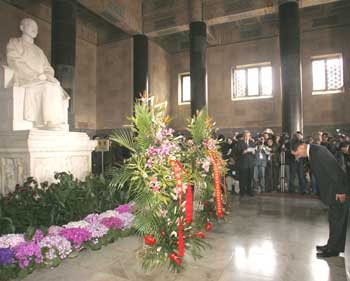 Chiang Pin-kun, vice-chairman of the Taiwan-based Chinese Kuomintang Party, bows to pay tribute to a statue of Dr Sun Yat-sen at Sun's mausoleum in Nanjing, Jiangsu Province March 30, 2005. Dr Sun is the pioneer of Chinese revolution and the founding father of the republic. Chiang and his delegation will also visit Beijing and meet senior officials from the Communist Party of China before the end of their trip on Friday. [newsphoto]

Led by vice-chairman Chiang Pin-kung, the 34-member KMT delegation were making the party's first official trip to the mainland in 56 years.

"The visit opened party-to-party dialogue between your party and our party," said Chen Yunlin, director of the Taiwan Work Office of the CPC Central Committee.

"It is of special significance (as the visit) will contribute to Taiwan's stability and development and strengthen cross-Straits economic and trade co-operation."

He made the remarks in a speech at a banquet held in honour of the KMT delegation at the Diaoyutai State Guest House.

The director said the KMT visit offered a chance for both parties to exchange views on issues of common concern and those relating to cross-Straits economic co-operation.

"We believe our communication will become an important driving force to push forward cross-Straits exchanges as long as our views conform to the interests and needs of people on both sides," he said.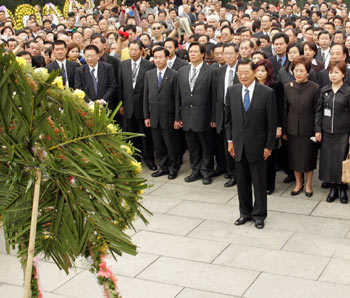 Chiang Pin-Kun, vice-chairman of the Taiwan-based Chinese Kuomintang party (KMT), prays during a visit to the Guangzhou Huanghuagang Martyr Cemetery March 29, 2005. The cemetery was in memory of martyrs killed in the Huanghuagang Uprising, led by Dr Sun Yat-sen, to overthrow the rule of the late corrupt Qing Dynasty (1644-1911) government in April of 1911. [newsphoto]

Chen added that it has been Beijing's long-standing and consistent policy to engage in consultation with any political parties, organizations and representatives in Taiwan who recognize the 1992 consensus, oppose "Taiwan independence," and support the development of cross-Straits relations.

"Striving for a win-win situation through closer cross-Straits exchanges and co-operation has become an unstoppable trend," he stressed.

Common aspiration

"No opposition or hurdle will stop the common aspiration of people across the Straits for co-operation."

Chen was apparently referring to the ruling Democratic Progressive Party administration's passive attitude towards developing cross-Straits relations.

Chiang hoped his party's visit could become an "ice-breaking trip" to help end the current stalemate in cross-Straits relations.

"We hope cross-Straits talks can be resumed and cross-Straits tensions eased through our efforts," Chiang said while addressing the dinner.

Speaking of the march organized by the DPP to protest against the newly-passed Anti-Secession Law, Chiang said, "Confrontation and tension do not benefit economic prosperity on either side."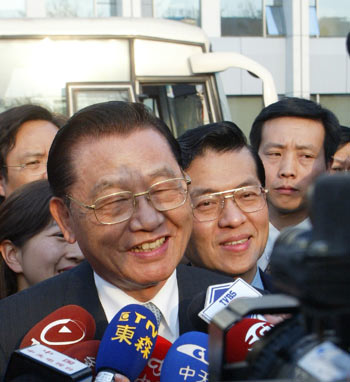 Chiang Pin-kun, vice-chairman of the Taiwan-based Chinese Kuomintang Party, is surrounded by reporters upon arrival at the Capital International Airport in Beijing March 30, 2005. [newsphoto]

The 72-year-old KMT vice- chairman emphasized that cross-Straits peace will be achieved through stronger economic ties and resolving differences between Taiwan and the mainland.

Last night, the group also held a four-hour work meeting with officials from the Taiwan Work Office, customs, ministries of commerce and agriculture, the General Administration of Civil Aviation of China and other departments.

They reached consensus on a wide-range of issues including the establishment of regular cross-Straits charter flights, the sale of Taiwanese agricultural products to the mainland and wider access to the mainland market by Taiwan service industries.

The KMT and CPC co-operated in the 1920s and again during the War of Resistance against Japanese Invasion in 1930s and 1940s.

Earlier yesterday in Nanjing, representing KMT Chairman Lien Chan and all party members, the delegation paid homage at the Mausoleum of Dr Sun Yat-sen, founder of the KMT,

"This place is central to our Chinese history. Dr Sun Yat-sen, who started the Chinese democratic revolution, is buried here and Nanjing was the capital of the Kuomintang party for many years," said Chiang.

Chiang's visit to the mausoleum is of great importance as this year marks the 80th anniversary of Dr Sun Yat-sen's death.

(China Daily 03/31/2005 page1)




Today's Top News
Top China News

Paper-making giant probed for illegal logging




KMT, CPC parties open historic dialogue




Chemical tanker crashes, killing 27




China to curb surging investment




Beijing court hears wrangle on Viagra patent




71% of Chinese women sexually harassed?