Chemical tanker crashes, killing 27
By Qin Yan (China Daily)
Updated: 2005-03-31 06:37
A tanker carrying liquid chlorine crashed into another truck in East China's Jiangsu Province, leaving 27 dead, mostly from inhaling fumes from the spilt substance.
About 285 nearby villagers were also poisoned in the accident and were still in hospitals in Huai'an yesterday.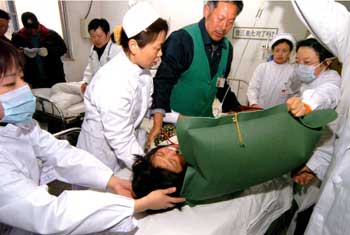 A woman poisoned after inhaling too much chlorine receives treatment in Huai'an, Jiangsu Province March 30, 2005. 27 were killed and nearly 300 were poisoned in the liquid chlorine leakage. [newsphoto]

Around 10,000 people were evacuated from villages near the accident site, which is next to the Beijing-Shanghai expressway, according to a Huai'an transport accident management official Song, who declined to give his full name.

The accident, which occurred on Tuesday night, is believed to have been caused by a flat tyre on the tanker.

The expressway was suspended for nearly 20 hours before resuming operation late yesterday.

A doctor with the Huai'an First People's Hospital, one of the hospitals treating the poisoned villagers, said they are trying their best to take care of the victims.

"Most of them are in a stable condition," he said.

He declined to give more details of the victims in the hospital.

The driver of the tanker fled the scene of the accident but late yesterday surrendered in Nanjing, capital of Jiangsu Province.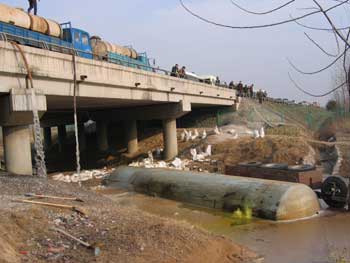 The huge tank is soaked in water for chlorine dissolution and further treatment after the accident March 30, 2005. [newpshoto]

The other truck driver was killed in the crash.

Song said it is still not known how much liquid chlorine was being carried by the truck.

But a Xinhua News Agency report said it was carrying 30 tons of liquid chlorine and there was just 10 tons left in the truck's tank.

The remaining liquid chlorine has been immersed in water so it will not pose a further danger, according Song.

The evacuated villagers will have to wait until the gas disappears completely before returning home, the official said.

Provincial officials also rushed to the site to oversee the rescue work.

(China Daily 03/31/2005 page1)




Today's Top News
Top China News

KMT, CPC parties open historic cross-Straits dialogue




Chemical tanker crashes, killing 27




Beijing court hears wrangle on Viagra patent




Authorities crack down on illegal logging




Online voters oppose Japan's new role




Steel companies lose export tax rebates