US First Lady to meet with Afghan women
(Agencies)
Updated: 2005-03-30 15:51
Laura Bush says she has been waiting a long time to tell the women of Afghanistan that American women stand with them.
The first lady arrived in the country for a five-hour visit early Wednesday with plans to visit women who are training to be teachers and others who have made a business of selling handicrafts. She was also to meet with Afghan President Hamid Karzai and have dinner with U.S. troops stationed at Bagram Air Base north of Kabul.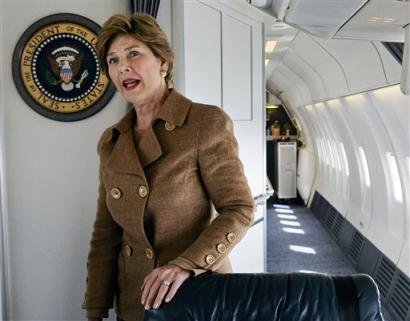 U.S. first lady Laura Bush speaks to reporters on board her plane en route to Kabul, Afghanistan, Tuesday, March 29, 2005. Laura Bush says she has been waiting a long time to tell the women of Afghanistan that American women stand with them. [AP]

Mrs. Bush had wanted to visit Afghanistan for a couple of years but delayed the journey, mostly because of security concerns about travel to the war-torn country, where American forces are still battling a stubborn Taliban-led insurgency. Her trip was kept secret until just before she left from Andrews Air Force Base near Washington.

"I have been so looking forward to going to Afghanistan," she told reporters on the tarmac of the military base in suburban Maryland. "When I really realized the plight of the women under the Taliban, I also found that American women really stand in solidarity with the women in Afghanistan."

"I'm delighted to be able to bring that message to Afghanistan," Mrs. Bush added. "This has been in the planning for quite some time. I didn't tell anyone."

A former teacher and librarian, Mrs. Bush has expressed concern about the limited educational opportunities for Afghan girls under the former Taliban regime.

"We want to encourage them to send their girls to school to get educated," Mrs. Bush said Tuesday. "We are very, very interested in their well-being and then, of course, in the broader Middle East as well. I think it is a message to them that the United States stands with people who are building their democracies."

For most Afghan women, little has changed since the Taliban's ouster. Women's literacy rates are just 14 percent, far below the literacy rate for men, and maternal mortality is about 60 times that of industrialized countries, with an Afghan mother dying every half-hour on average.

Girls outside of cities still do not often go to schools. Some are back to wearing burkas, or all-covering veils. White House spokesman Scott McClellan said the Bush administration is working to advance the rights of women in Afghanistan.

"We will continue to support those efforts and do all that we can," he said Tuesday from the White House as Mrs. Bush was en route to Afghanistan.

The first lady was accompanied by Education Secretary Margaret Spellings. Her twin daughters, Barbara and Jenna, did not go along.

Spellings visited Afghanistan last year and said she was touched by the plight of women.

"They've been abused by the Taliban and sometimes their families, their husbands — (Afghanistan's) pervasiveness of drugs," Spellings said. "I mean, these gut-wrenching stories. And of course they adore their children, and they want to see about their children, they want a better life, a better future."

About 17,000 U.S. troops are in Afghanistan. More than 120 American soldiers have died since American forces invaded to oust the former Taliban government for harboring al-Qaida militants after the Sept. 11, 2001, attacks on the United States.

Susan Whitson, the first lady's press secretary, said the White House had worked with security officials to ensure the first lady's safety.

"We want to make sure she is safe as well as the people she is meeting with and all the citizens of Afghanistan," she said. "We've taken all the precautions."

Mrs. Bush was traveling to Afghanistan as part of a delegation of the U.S.-Afghan Women's Council, a group formed in 2002 to promote private-public partnerships between U.S. and Afghan institutions and ensure that Afghan women gain the skills and education denied them under years of the Taliban.

In Kabul, Mrs. Bush was to visit the Women's Teacher Training Institute and hold a round-table discussion with students and teachers. She also was to witness the awarding of a $17.7 million grant to American University in Kabul and $3.5 million to the International School.




Today's Top News
Top World News

Millions click "no" to Japan's UNSC bid




KMT leader: Taiwan people seek peace




Work on new Olympic gymnasium begins




Central bank: China won't follow US on rates




Yuanmingyuan lake bed project questioned




Fertility industry takes off in China