Central bank: China won't follow US on rates
(chinadaily.com.cn)
Updated: 2005-03-30 11:25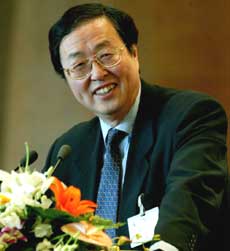 Zhou Xiaochuan, governor of the People's Bank of China or the central bank, speaks at the China Development Forum on March 21, 2005 in Beijing. Zhou indicated that China will not follow the US in making frequent rate adjustments. [newsphoto]

China will keep a close watch on various economic and financial indicators before making further adjustments to key interest rates, its central bank governor said in remarks published Tuesday.

Zhou Xiaochuan indicated that China was unlikely to follow the lead of the United States and other western economies in making frequent rate adjustments in line with shifting business cycles, the People's Daily said in an interview.

Unlike the United States and other major industrial countries, China's developing economy does not follow such predictable cycles, Zhou said.

"The Chinese economic cycles aren't so stable, so from the point of view of interest rates we can't even say what cycle we're in," he was quoted as saying.

"The central bank will closely monitor economic changes and analyze the domestic economy, prices and other economic indicators before deciding on a future interest rate hike," Zhou said.

China raised interest rates for one-year loans by 0.27 percentage points to 5.58 percent in late October, the first increase in more than nine years.

The U.S. Federal Reserve's decision a week ago to raise its target for the federal funds rate, the interest that banks charge each other, to 2.75 percent, revived expectations China might also boost rates, pushing share prices on domestic markets sharply lower.

Beijing has been tightening credit and adjusting lending rates for real estate-related borrowing as it attempts to slow investment in property and other sectors it fears may be growing too quickly, raising risks to the fragile financial system.
But authorities have sought to keep growth at a brisk pace.

A government think tank forecast Tuesday that China's economy would grow 8.8 percent in the first quarter of this year, compared with the same period a year earlier, down from 9.5 percent growth in 2004.

A State Information Center research report said the forecast was based on double-digit growth for industrial output, fixed asset investment and foreign trade.
Officials say they remain worried that investment in property construction and other projects might rebound, straining energy and transport and possibly igniting inflation.


Today's Top News
Top China News

Millions click "no" to Japan's UNSC bid




KMT leader: Taiwan people seek peace




Work on new Olympic stadium begins




Central bank: China won't follow US on rates




Yuanmingyuan lake bed project questioned




Fertility industry takes off in China



Story Tools


Advertisement