Maradona interested in working with Chavez
(Xinhua)
Updated: 2005-03-30 10:48
Former Argentine soccer star Diego Maradona, who is visiting Venezuela, expressed he would like to work on some kind of project with Venezuelan President Hugo Chavez.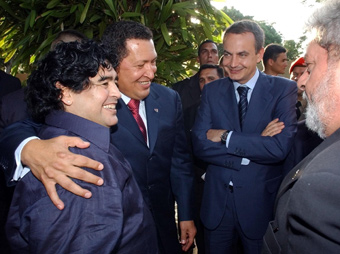 Argentine soccer legend Diego Maradona (L) is embraced by Venezuelan President Hugo Chavez (C) while Spanish Prime Minister Jose Luis Rodriguez Zapatero (second right) and Brazil's President Luiz Inacio Lula da Silva (R) looks on during summit in Puerto Ordaz March 29, 2005. Maradona arrived at the Summit to surprise the leaders.
[Reuters]

Maradona, in a statement released Tuesday by the press, said that he has great expectations over the meeting due Tuesday with Chavez at the Venezuelan city of Puerto Ordaz.

"I am looking forward to meeting him (Chavez) and hopefully he would offer me a task. Of course I won't ask for it, but if he offers it I would accept," he added.

He said that if he has a chance he would transfer his experiences in sports to youngsters, "good and bad experiences; it would be good to let kids know this."

He thanked the invitation made by Venezuelan authorities to take part in the opening of the South American sub-17 soccer championship on Friday.

Diego Maradona, 44, arrived in Venezuela on Monday evening in a private flight from Colombia, where he underwent a stomach operation to lose weight.

With respect to the Venezuelan national soccer team, he said it now is respected because of its performance.

"It is a national team that is on its way up and that is good for soccer, because this makes countries to become more passionate about soccer, the king of world sports," he added.




| | |
| --- | --- |
| | |
| Guess who? Diego Maradona! | |

| | |
| --- | --- |
| | |
| England ready for duel with Azeris | |

| | |
| --- | --- |
| | |
| Ref's decision sparks fury | |
Today's Top News
Top Sports News

Millions click "no" to Japan's UNSC bid




KMT leader: Taiwan people seek peace




Work on new Olympic stadium begins




Yuanmingyuan lake bed project questioned




Chinese warned against Kyrgyzstan travel




Indonesia quake toll stands at 330, may rise