Lebanon's prime minister says he'll resign
(Agencies)
Updated: 2005-03-30 09:02
Lebanon's pro-Syrian prime minister said Tuesday he would resign, unable to put together a government, and the head of military intelligence stepped aside in new signs the anti-Syrian opposition was gaining momentum in the country's political turmoil.
Prime Minister Omar Karami's decision comes amid a deadlock over forming the government, which must be completed before parliamentary elections can be held. Elections are scheduled for April and May, and the opposition — which is expected to win them — is eager to see them held on time.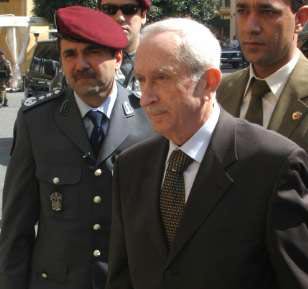 Lebanese Prime Minister Omar Karami arrives at Parliament in the capital Beirut March 15, 2005. Lebanon's pro-Syrian prime minister-designate Karami started talks on Tuesday on forming a unity government, a challenging task made even harder by a massive anti-Syrian protest in Beirut a day earlier. [Reuters]

It was unclear whether the resignation would end to the standoff. It could delay the ballot because it means the process of finding a leader for the government must start again from scratch.

But it could also be a signal that the pro-Syrian leadership is ready to bend to opposition demands, which would clear the way for the quick formation of a new Cabinet and the organizing of elections.

Lebanon has been in political crisis since the Feb. 14 assassination of former Prime Minister Rafik Hariri. His death in a bomb blast — which the opposition blamed on Syria and its Lebanese government allies — prompted giant street protests that forced the government at the time, led by Karami, to resign on Feb. 28. Syria and the Lebanese government have denied any role in the killing and Damascus has been struggling to maintain its hold over its smaller neighbor.

In a slap to the opposition, pro-Syrian President Emile Lahoud brought Karami back as a caretaker prime minister to form a new government on March 10.

Karami had sought to form a national unity government including opposition members. But critics said that aimed only to give legitimacy to a Cabinet that would still be dominated by Syria's allies and they accused Karami of proposing it to delay elections that the leadership fears it will lose.

Karami told reporters Tuesday that he would step down — but an official announcement would likely come in the next two days, after he consults with political allies and notifies Lahoud.

Karami accused the opposition of conspiring with the United States and France to make a unity government fail.

"That means the opposition does not want to shoulder responsibilities," he told reporters after briefing parliament speaker Nabih Berri on his decision to resign.

The Lebanese opposition is demanding a government formed from anti-Syrian politicians or one made up of respected, neutral figures that would be mandated solely to set up the elections.

"The opposition's priority is elections, not a new government. The opposition will facilitate the formation of any government that will help hold elections on time," opposition member Samir Franjieh said.

Syria has dominated Lebanon for decades, with thousands of troops on its soil and with allies controlling the government and security forces. But the political turmoil is loosening its grip: Syrian troops have been reduced to 8,000 — the lowest level since they entered the country in 1976 during the civil war — and Damascus has promised to remove the rest.

In a sign of possible new flexibility from the leadership, Maj. Gen. Raymond Azar, the head of military intelligence — stepped aside Tuesday, taking a one-month administrative leave, a senior military official said. The official spoke on condition of anonymity because a formal announcement has not been made.

The opposition has been demanding the resignation of Azar, four other top security chiefs and the prosecutor-general, accusing them of negligence in the investigation into Hariri's death and insisting fair elections are impossible as long as they are in place.

The government has previously resisted opposition pressure to sack the officials.

The administrative leave could be an initial step toward a full resignation. Maj. Gen. George Khoury, head of intelligence in the Mount Lebanon province, was appointed to fill the post.

The staggered legislative elections are due to begin late April and continue into May, ahead of the end of parliament's term on May 31.

If Karami does step down, the business of forming a government goes back to square one. The president will have to poll legislators on whom to appoint as prime minister designate, the nominee will have to conduct a new round of negotiations on the Cabinet's composition, and the parliament will have to approve the government.

The new government's priority will be to steer an electoral law through parliament and oversee the election process.




Today's Top News
Top World News

Millions click "no" to Japan's UNSC bid




KMT leader: Taiwan people seek peace




Work on new Olympic stadium begins




Yuanmingyuan lake bed project questioned




Chinese warned against Kyrgyzstan travel




Indonesia quake toll stands at 330, may rise