Sharapova ends Henin-Hardenne's comeback
(Agencies)
Updated: 2005-03-30 09:01
Maria Sharapova started strong and finished fast, while Justine Henin-Hardenne was feisty but rusty. Henin-Hardenne, playing her first tournament in seven months, staged a gallant comeback Tuesday but lost to Sharapova 6-1, 6-7 (6), 6-2 in the quarterfinals of the Nasdaq-100 Open.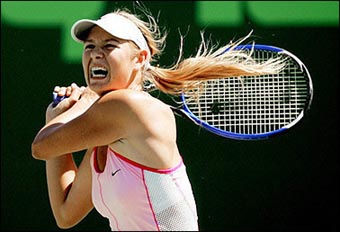 Wimbledon champion Maria Sharapova squandered three match points before posting a 6-1, 6-7 (6/8), 6-2 victory over former world number one Justine Henin-Hardenne to advance to the semi-finals of the WTA tournament at Key Biscayne. [AFP]

"She has been a top player," Sharapova said. "I was expecting a really tough match. It came out to be really tough."

Sharapova, seeded second, failed to convert three match points in the second set but finally closed out the victory an hour later with a backhand winner accompanied by her trademark shriek.

The Wimbledon champion, who said she has been winning lately despite a sore back, will play a Williams sister in the semifinals Thursday. Serena and Venus, both three-time champions at Key Biscayne, were scheduled for their first meeting since July 2003 on Tuesday night.

Advancing to the men's quarterfinals was six-time Key Biscayne champ Andre Agassi, who endured a grueling first set and beat French Open champion Gaston Gaudio 7-6 (7), 6-2. Gaudio faded after converting just one of 10 breakpoint chances in the opening set, which lasted 85 minutes.

Two Spaniards made the men's final eight. Rafael Nadal, an 18-year-old left-hander with two titles already this year, beat No. 13-seeded Ivan Ljubicic 6-4, 6-7 (5), 6-3. Unseeded David Ferrer rallied past countryman Juan Carlos Ferrero 6-7 (7), 6-3, 7-5.

No. 26 Dominik Hrbaty, who upset Marat Safin in the third round, eliminated 18-year-old Gael Monfils 6-3, 6-3.

Henin-Hardenne, coming back from a virus and knee injury, was pleased to win three matches and give Sharapova a battle.

"It's pretty amazing," the three-time Grand Slam champion said. "I couldn't imagine before coming to Miami that I would play at this level. I did a good job, so it's good for my confidence."

Against Sharapova, Henin-Hardenne dug in after a poor start. She shanked several shots early, and even her picturesque backhand malfunctioned on a mis-hit that sailed 10 feet long on break point. She blew an overhead and lost that game, too, and hit a drop shot that didn't even reach the net.

Sharapova, meanwhile, repeatedly placed shots inches inside the lines to keep Henin-Hardenne on the defensive.

"She was playing unbelievable tennis," Henin-Hardenne said. "She's tall and she's powerful. She's a great player."

But with Sharapova on the verge of victory at 5-4, 40-love in the second set, Henin-Hardenne saved three match points. Sharapova then double-faulted to lose the game.

With Henin-Hardenne hitting her groundstrokes more aggressively, Sharapova saved three set points to hold for 6-6, then saved three more in the tiebreaker before dumping a backhand in the net on the final point of the set.

"You just keep fighting and keep being positive," Sharapova said. "Easy to say, hard to do."

She quickly regrouped in the final set, taking a 3-0 lead against a tiring Henin-Hardenne and improved to 5-0 in quarterfinals this year. She has rebounded from a 6-0, 6-0 loss to Lindsay Davenport at Indian Wells earlier this month.

The first set of the Agassi-Gaudio match was an endurance test with plenty of long rallies and each player winning 61 points. In the tiebreaker, Gaudio committed a foot fault and six unforced errors, allowing Agassi to take control.

Midway through the second set, it became clear that Gaudio was spent and his judgment impaired. The Argentine tried an acrobatic shot between his legs and dumped the ball into the net to fall behind 4-2.

"It's an odd shot to play in that situation," Agassi said.

"I did it because I wanted to," Gaudio said. "If I make it, everyone says, `What a star.' If I don't, they say, `What a jerk.' "




| | |
| --- | --- |
| | |
| England ready for duel with Azeris | |

| | |
| --- | --- |
| | |
| Ref's decision sparks fury | |

| | |
| --- | --- |
| | |
| China lose to Ireland 1-0 | |
Today's Top News
Top Sports News

Millions click "no" to Japan's UNSC bid




KMT leader: Taiwan people seek peace




Work on new Olympic stadium begins




Yuanmingyuan lake bed project questioned




Chinese warned against Kyrgyzstan travel




Indonesia quake toll stands at 330, may rise