Yuanmingyuan lake bed project questioned
By Li Fei (China Daily)
Updated: 2005-03-30 05:47
In this water-hungry capital city, it is unusual for a massive water-saving project to cause a lot of controversy. But such is the case this time around.
A multi-million dollar scheme in Yuan Ming Yuan park (the Old Summer Palace), has led to an outcry from experts and residents alike who are worried about Beijing's water supply.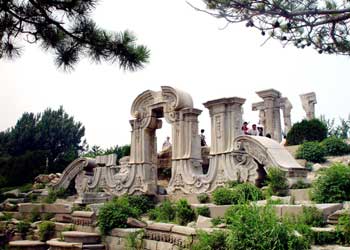 A section of the ruins of the Yuanmingyuan (old summer palace). [newsphoto file]

The park is in the process of covering its lake bed - about 2000 mu (133 hectares) - with impermeable membrane. Critics say this will damage Beijing's underground water supply.

Covering the bed will, park workers say, conserve water by preventing it from seeping into the ground.

"Without the membrane, we have to add water to the lake three times a year; with the membrane, just once," said a park official who preferred to remain anonymous.

"This way, we can save a considerable amount of money as we don't have to buy so much water. This is significant because we are on a tight budget," the official added.

Many experts are questioning the merits of the project.

"It is an ecological disaster and should be stopped immediately," Zhang Zhengchun, a professor of Lanzhou University, told the People's Daily web edition.

"Covering the lake bed with impermeable membrane will cut off its relationship with the underground water system."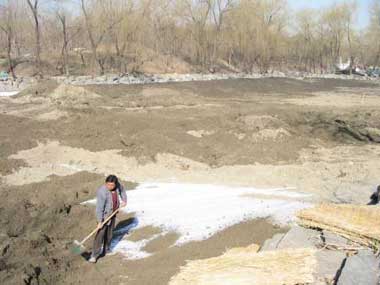 A workers covers impermeable membrane with soil in the massive water-saving project of Yuanmingyuan or the Old Summer Palace in Beijing March 30, 2005. This project has caused a lot of controversy and many experts say it would cause an environmental disaster to the palace's water system and its environment. [Beijing Evening News]

His view was echoed by Wu Bihu, a professor at Peking University.

"The impermeable membrane will prevent the water from seeping into the ground, which will disturb Beijing's underground water system."

Park officials seem to have different points of view on any damage caused by the project.

Some say the scheme has been assessed and evaluated by experts and it will do no harm to the environment.

"The project will not completely prevent water from seeping underground, so it will not disturb the underground water supply," Tang Li, from the park's administrative office, told the Beijing News.

However, she declined to give details on the experts' assessment report.

Another park official, Li Jingqi, director of the Yuan Ming Yuan Park Administration Office, admitted "there will be some impact on the ecological environment but it will not be as severe as those experts have claimed."

Yuan Ming Yuan park, which was burned to the ground by Anglo-French forces in 1860, is located in the western suburbs of Beijing.

The total spending on the membrane project is reportedly 150 million (US$18 million), a figure dismissed by Tang.

"The spending is not that much," she said, but gave no specific figures.

An online survey on the People's Daily's website showed 92.8 per cent of those polled are against the project, while 3 per cent agree it will save water.

But the project, which started on February 16, is unlikely to be suspended, at least for the time being.

"The main part of the project has been completed. It is unrealistic to put the brakes on now or remove the membrane," said Li Jingqi, the park's administrative director, according to reports in People's Daily.

"Whether the project will be stopped or the membrane removed will be decided by our boss," Li added.

(China Daily 03/30/2005 page3)




Today's Top News
Top China News

Millions click "no" to Japan's UNSC bid




KMT leader: Taiwan people seek peace




Work on new Olympic gymnasium begins




Central bank: China won't follow US on rates




Yuanmingyuan lake bed project questioned




Fertility industry takes off in China