Millions click "no" to Japan's UNSC bid
By Jiang Zhuqing (China Daily)
Updated: 2005-03-30 00:12
Widespread opposition to Japan's bid for a permanent seat on the UN Security Council has seen millions take part in an online vote.
Internet petitions in three major Chinese Internet portals -- Sina, Sohu and Netease -- surpassed 10 million signatures by Tuesday afternoon, reported Xinhua.



Students and citizens sign up on a banner to oppose Japan's bid for a permanent seat of the United Nations Security Council in Xi'an, Northwest China's Shaanxi Province March 27, 2005. They urged Japan to face up to its wartime history. [newsphoto]

China918.net, however, said over 16 million, including about 170,000 overseas voters, had taken part by Sunday evening.

More than 99 per cent of Chinese netizens who voted at cyol.net -- Chinese youth online -- opposed Japan's bid for a permanent UNSC seat.

"I wrote down my name on Sina several days ago," said Amy Li, a human resource manager who works in Beijing, Tuesday. "Under the requests of my mother and grandmother, I also signed signatures for them," he said.

Li said he is from Northeast China, the first region invaded by the Japanese soldiers during War of Resistance against Japan (1937-45).

In a letter written to UN Secretary General Kofi Annan, Tong Zeng, chairman of the China Federation for Defending the Diaoyu Islands, said he wants the UN chief to listen to the opposition calls from the mass of people in China, Republic of Korea and other Asian countries, which were invaded by Japan during the war.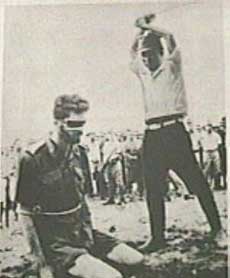 A Japanese soldier was beheading a captured US pilot during the World War II. [file photo]

"I have never seen such a large-scale signing activity in which so many people are united in their opinions in the nearly 10 years the Internet has been developing in China," Chen Tong, editor-in-chief of popular portal sina.com, was quoted as saying by Xinhua.

Chen said the petition on his website would be presented to the United Nations, the Japanese Embassy in Beijing and relevant Chinese Government departments, Xinhua said.

Elsewhere, more than 10,000 people signed a 10-metre red banner bearing an anti-Japanese slogan in the southern city of Guangzhou, reported the Southern Metropolis Daily at the weekend.

Protesters in two other large cities, Shenzhen and Chongqing, also took to the streets, some signing a banner that read "Smash Japan's vain hope to be a permanent member," the Legal Evening News reported.

The signature drive began to appear on major domestic websites after UN Secretary-General Kofi Annan appeared to back Japan's bid on March 21, reports said.

About 35 million Chinese were killed or wounded by invading Japanese troops during the war, statistics indicated. But some in Japan deny the massacre.


Today's Top News
Top China News

Millions click "no" to Japan's UNSC bid




KMT leader: Taiwan people seek peace




Work on new Olympic stadium begins




Central bank: China won't follow US on rates




Yuanmingyuan lake bed project questioned




Fertility industry takes off in China



Story Tools


Advertisement