Chinese warned against Kyrgyzstan travel
By Qin Jize (China Daily)
Updated: 2005-03-30 00:12
China's Foreign Ministry has advised against travelling to Kyrgyzstan after 10 Chinese nationals were injured during last week's violent uprising.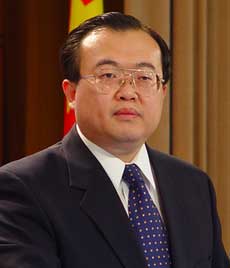 Foreign Ministry Spokesman Liu Jianchao. [fmprc.gov.cn]

Foreign Ministry spokesman Liu Jianchao said three were seriously injured and had been taken to local hospital and the economic loss has reached US$7 million.

Liu told a weekly news briefing the Chinese Embassy in Kyrgyzstan has demanded the Kyrgyzstan side to take effective measures to protect the property and personal safety of Chinese citizens and institutions in the country.

Liu said the civil air service between China and Kyrgyzstan is back to normal and those who want to evacuate will have no difficulties at present.

Liu said the 10 Chinese were injured during looting but there is no evidence to suggest they have been targeted because of their race or nationality.

China's border post with Kyrgyzstan in Northwest China's Xinjiang Uygur Autonomous Region reopened Monday after a six-day closure amid the current political crisis in the country.

The closure temporarily stranded more than 100 Kyrgyz business people on the Chinese side of the 1,000-kilometer-long border, Xinhua said.

Japan rebuke

China rejected the concerns expressed by Japan about the increase in Chinese military spending, saying is was "very shocked" by the comments.

Liu argued that Japan's defence budget for fiscal year of 2004 was about US$41.5 billion, compared with China's US$25.6 billion.

"Japan has less land and a smaller population but its military expenditure is 1.62 times more than China," Liu said.

Liu said he hopes Japan will "take an objective position concerning this issue."

There are reports that a study made by the Japanese National Institute for Defence Studies warned that the military balance in East Asia was becoming "increasingly uncertain" due to an arms build up by China.

Double standards

China is strongly opposed to a report issued by the US State Department on Monday, which has again stigmatized the human rights situation in China, Liu said.

"The Chinese Government aims toserve its people and has made tremendous efforts in the fields of protecting human rights, expending democracy and enforcing the rule of law," he said.

Liu said the US State Department should have been fully aware of the achievements made by the Chinese Government and its people in the field of human rights protection.

He urged the US to stop intervening in the domestic affairs of other countries using the excuse of human rights and to "pay more attention to its own human rights situation."




Today's Top News
Top China News

Millions click "no" to Japan's UNSC bid




KMT leader: Taiwan people seek peace




Work on new Olympic stadium begins




Yuanmingyuan lake bed project questioned




Chinese warned against Kyrgyzstan travel




Indonesia quake toll stands at 330, may rise