Bush OKs first national counterintel plan
(Agencies)
Updated: 2005-03-29 09:24
WASHINGTON - US President Bush has approved the nation's first counterintelligence strategy, directing the intelligence agencies to go on the offensive — together — against foreign and terrorist threats.
Counterintelligence is the government-wide effort to protect against foreign espionage and intelligence collection. But professionals in this narrow specialty concede the work has largely been done piecemeal by the 15 agencies that make up the U.S. intelligence community, and often in reaction to intelligence that's already been lost.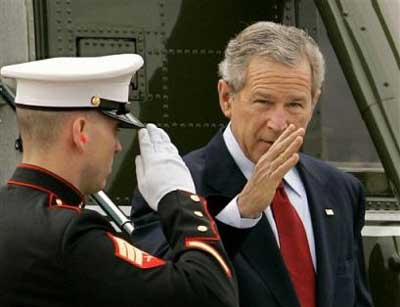 US President Bush returns a salute as he steps off of his helicopter, Marine One, as he and first lady Laura Bush arrive for Easter worship services at Ft. Hood, Texas, about fifty miles from their ranch in Crawford, Sunday, March 27, 2005. The president will return to Washington on Monday. [AP]

Released Monday, the president's strategy directs the intelligence community to "identify, assess, neutralize and exploit the intelligence activities" of countries, terrorist groups and international criminal organizations who are out to harm U.S. interests. Bush signed the document on March 1.

It also calls on the agencies to protect U.S. intelligence collection and analysis methods from penetration and manipulation.

The 14-page unclassified version of the strategy lacked details and specifics, making it difficult to assess its impact. Intelligence officials have noted that much of the nation's intelligence focus has gone to fighting terrorism.

The strategy warns that terrorists can "gain significantly" with the support of other governments. That means "the intelligence services of these regimes can be links in the global terrorist support network."

National Counterintelligence Executive Michelle Van Cleave, whose office assembled the strategy for Bush, has argued for an offensive stance. "No longer will we wait until we have been harmed to act," Van Cleave said recently.

Created in 2002, her office is supposed to coordinate the government's far-flung counterintelligence activities.

The strategy says she'll work closely with the new national intelligence director to find the best way to protect against threats that include foreign intelligence services, terrorists, criminal enterprises and cyber intruders. They will examine whether to establish a center specifically focused on counterintelligence.

One counterintelligence official, who spoke on the condition of anonymity, said a key element of the strategy is "creative counterintelligence."

The official said that means maintaining such a strong system that enemies don't know if people who approach them with intelligence — like FBI spy Robert Hanssen — are truly disaffected government employees or double agents. Hanssen gave secrets to the Soviets for over 21 years.

"Since 1985, nearly 80 Americans have been arrested for crimes related to passing classified information to foreign governments," the strategy says. "These spies were able to operate undetected for too long with disastrous results."




Today's Top News
Top World News

Indonesian VP: Quake may kill up to 2,000




KMT leader in Guangzhou for historic visit




China's shares hit 6-year low




Scientists honoured at State awards




Woman takes helm of State forex office




Bad habits anger Beijing residents