China's shares hit 6-year low
By Chen Hua (China Daily)
Updated: 2005-03-28 23:55
China's shares Monday hit their lowest intraday level in nearly six years due to a piling up of weak investor sentiment.
The benchmark Shanghai composite index, which groups foreign currency B shares and local currency A shares, slid 0.46 per cent to close at 1,200.113 points after initially docking at 1185.45 points at noon, 1.71 points lower than 1,187.26 -- the previous record logged in May 1999.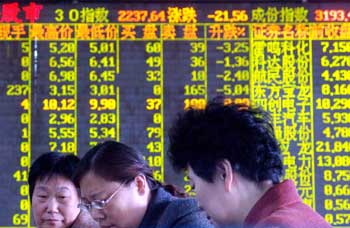 Three stock buyers discuss the trend of the market in a securities trading office in Zhengzhou, Henan Province March 28, 2005 as China's shares hit the lowest level in nearly six years. [newsphoto]

Turnover in Shanghai hit 4.910 billion yuan (US$592 million) and Shanghai's biggest decliner -- Dongfeng Technology -- shed 10.05 per cent to close at 7.35 yuan (88 US cents).

Analysts foresaw more losses ahead with sentiment extremely weak after an unremitting share slump.

Experts said the situation is a natural result of poor sentiment caused by the government's new economic cooling measures and the failure of regulators to take steps to solve the stock market's problems after the National People's Congress (NPC) and Chinese People's Political Consultative Conference (CPPCC).

"The government has taken a series of steps such as the housing loan rate increase to cool the overheating economy. It's estimated that tougher ones will follow and GDP this year will fall. Most investors have a pessimistic view of the market and are reluctant to trade amid weak sentiment," said Wang Kai, a manager from the Investment Research Department of China Securities Co.

Investors had strong hopes regulators would attend to the weakening stock market after the winding up of the CCPCC and NPC.

Before the two meetings, an online survey conducted by Xinhuanet.com on the hot topics of the two annual meetings showed that most respondents picked the capital market as the issue requiring most attention.

"To date, no such moves have been unveiled. Nor are there any signals something will be done, and this has intensified investors' uncertainty," said Liu Haobo, an analyst at CITIC Securities.

Meanwhile, other catalysts were also responsible for Monday's slump.

Information exists suggesting some companies including Shenhua Coal Trading Co and Bank of Communications will make initial public offerings (IPOs) in the coming months. The IPOs will remove more capital from the sluggish market, according to Lei Xiaorong, an analyst from China Golden Valley International Investment & Trust Co.

Most investors prefer to focus on fixed-asset investment rather than buying stocks, also the lack of fresh money in the stock market is not helping matters, according to Wang Kai at China Securities Co.

Monday, aviation stocks, including Shanghai Airlines Co Ltd dived over concerns of a hike in fuel prices.

Shanghai Air closed 3.1 per cent lower at 4.41 yuan (53 US cents). Domestic carriers have been battered recently by worries soaring oil prices will hurt bottom lines.




Today's Top News
Top China News

Powerful quake off Indonesia kills nearly 300




KMT leader in Guangzhou for historic visit




China's shares hit 6-year low




Scientists honoured at State awards




Woman takes helm of State forex office




Bad habits anger Beijing residents