Bad habits anger Beijing residents
By Di Fang (China Daily)
Updated: 2005-03-28 23:55
What disgusting habits turn your stomach when you walk the streets of the capital?
Beijing residents say spitting is what they hate most about living in the city, among the multitude of anti-social behaviour to be witnessed on a daily basis.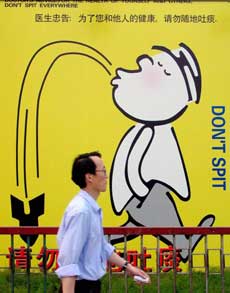 A man walks past an advice poster in Shanghai in this undated file photo. Bad habits as spitting hurt China's image and authorities are calling on people to say goodbye to the bad habit. [newsphoto]

Following close behind spitting are dog owners who fail to clear up their pets' excrement.

Third on the list of irritating practices is not properly disposing of rubbish.

The result were released by the Beijing Social Psychology Institute after they recently conducted a survey of 770 randomly selected people.

"The three phenomena that topped the list of uncivilized behaviour remained unchanged when compared to our survey of one year ago," said Kang Yue, report writer and one of the major designers of the survey.

Nearly 63 per cent of those surveyed this month said they frequently see people spitting in public.

However, nearly 27 per cent of the residents questioned said that spitting has reduced over the past year.

"We are happy to see this result. However, spitting in public has become a habit for some," said Kang.

"Behaviourism believes that punishment could help to reduce the probability of some bad behaviour," the researcher said.

"For spitting, residents being surveyed said that publicity and punishment should be strengthened to make those with the bad habit change. But it still needs more effort from the whole of society and every resident to achieve the goal," she said.

Beijing resident Yang Ling said: "I find that few people will spit in their residential district or workplace. Spitting at home goes without saying."

But on streets and in other public places such as buses and railway stations, spitting is more common.

"People believe that home and their residential district are their own places. In workplaces, people care about what people think of them as everybody else will know them," Yang explained.

"But in public places, due to a lack of supervision, some people believe the environment has nothing to do with them," she said. Besides spitting, with the increase in dogs raised as pets in Beijing, many complaints have been received because some dog owners do not clear up their pets' excrement.

More than half of those surveyed said they often saw this happen.

"I always see dog excrement on the lawns by the sides of streets," Li Xuan, a Beijing resident said.

"The dogs have no idea where they should relieve themselves, but why do their owners know nothing about what to do with what they leave behind?" he asked.

It is reported that there are more than 1 million pet dogs in Beijing.

Other habits that really get on the nerves of city residents are illegal adverts, out of control passengers on buses or the subways and lovers who show affection in public.

However, 44 per cent of the surveyed people believe that the moral standard of Beijing is still high despite the catalogue of problems.

Only 7 per cent of the people being questioned said that the moral standard of Beijingers was low.

Many people being surveyed believe that locals are more civilized than a year ago.

"In a telephone interview, many local residents said that although the ethical standards of Beijing were high compared with other domestic cities, there is still a gap between the capital city and some foreign metropolises," the researcher Kang Yue said.

Gan Shaoping, a researcher from the Chinese Academy of Social Sciences urged heavy fines to be slapped on those who spit in public, the Beijing Star Daily reported.

He said economic development will also help upgrade the moral standards of society.




Today's Top News
Top China News

Indonesian VP: Quake may kill up to 2,000




KMT leader in Guangzhou for historic visit




China's shares hit 6-year low




Scientists honoured at State awards




Woman takes helm of State forex office




Bush OKs first national counterintel plan