Is Shanghai the most livable or the most leaveable city?

A heated debate has been sparked with the naming of the eastern metropolis as the "most livable city in China".

According to a recent survey, the majority of Shanghai natives believe the city is a good place to live in.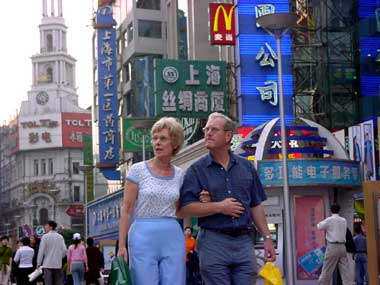 Two foreign visitors stroll in Nanjing Road, Shanghai's bustling commercial center in this undated file photo. A recent survey finds that Shanghai is the best place to live in. [newsphoto]

One impressed resident, office worker Xu Qian, said: "I enjoy a very convenient life. You can find whatever you want and the environment is improving every day."

However, for Li Xiang, who works for a trading company, Shanghai is definitely not a livable city but a most leaveable city.

"The roads are narrow, the subways are crowded, the air quality is bad and housing costs are incredibly high," Li said. "And it's really surprising that it stays at the top of the list."

Li said he understands Shanghai natives want to be loyal to their hometown but he believes the city only excels in the category of "the best city for business," and certainly not the category of "most livable city."

Business Watch Magazine and the Horizon Group jointly released the results of the survey looking for the top 10 most livable cities in China.

According to their findings, the most livable city is Shanghai, followed by Dalian, Beijing, Guangzhou, Chengdu, Qingdao, Hangzhou, Guilin, Zhuhai and Xiamen.

Liveablity factors rated in the survey included convenience of transportation, pollution, air quality and other less tangible factors reckoned to make a city more livable.

One of the researchers responsible for the survey, Yao Lan, said the main reasons Shanghai triumphed were its strong economic position and its efforts to model itself as an international city.

Guangzhou is attractive for its employment opportunities and business environment, while Beijing's strengths are its position as an unrivalled cultural and political centre, she added.

The majority of the livable cities on the list are well-known small resort cities.

They gained their votes for their cleanness and beautiful scenery, said Yao.

The views of at least one proud Xiamen resident, Wu Tao, gave weight to this theory.

"Perhaps the first thing a new comer notices in Xiamen are the pleasant tree-lined avenues, clean streets and free flowing traffic," Wu said.

Xiong Xibei, a university teacher in Guilin, said she was satisfied with Guilin's position of eighth on the list.

With the development of the local economy, she said, her city will surpass Beijing and Shanghai in the near future.