Woman takes helm of State forex office
By Xu Binglan (China Daily)
Updated: 2005-03-28 23:34
China has appointed a woman as the new director of the State Administration of Foreign Exchange (SAFE), a government source said yesterday.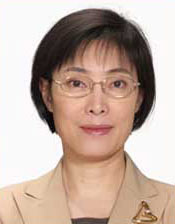 Hu Xiaolian, new director of the State Administration of Foreign Exchange. [file]

Hu Xiaolian, a central banker and formerly the assistant governor of the People's Bank of China, will take over from Guo Shuqing, who became chairman of the China Construction Bank last week.

Guo replaced Zhang Enzhao, who resigned earlier this month.

Hu is the second woman among eight people to head the office since it was listed into China's cabinet in 1988. The first, Wu Xiaoling, served during 1998-2000.

Her appointment yesterday makes her one of the few women to hold senior posts in China's financial sector.

Hu, 46, is an experienced foreign exchange regulator and is expected to continue on the path pursuing a stable and an increasingly convertible renminbi and a more sophisticated foreign exchange market.

Her challenges also include managing the country's hefty foreign exchange reserves, which stood at US$610 billion at the end of last year.

China's foreign exchange policy is decided by the central bank but SAFE is instrumental in the policy's formulation of implementation.

Hu's experience made her an ideal candidate for the post of SAFE director, insiders said.

Hu previously worked with SAFE between 1985 and 2004.

During her time, she served in departments of policy research, policy and regulations, and reserves management. In 2001, she became vice-director.

In August, 2004, she joined the People's Bank of China as an assistant governor.

Hu graduated with a master's degree from the graduate school of the People's Bank of China in 1985.




Today's Top News
Top China News

Indonesian VP: Quake may kill up to 2,000




KMT leader in Guangzhou for historic visit




China's shares hit 6-year low




Scientists honoured at State awards




Woman takes helm of State forex office




Bush OKs first national counterintel plan