KMT leader in Guangzhou for historic mainland visit
(Agencies/chinadaily.com.cn)
Updated: 2005-03-28 13:53
Chiang Pin-kun, vice chairman of Taiwan Nationalist Party, has arrived in Guangzhou, south China's Guangdong Province with a 34-member delegation, the first trip to the mainland since 1949.

Chiang said prior to his departure from Taipei that the visit was aimed at easing cross-strait tensions.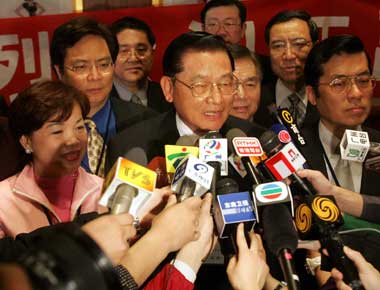 Chiang Pin-kun, vice chairman of Taiwan's opposition Kuomintang, is surrounded by reporters upon his arrival in Guangzhou March 28, 2005. Chiang leads a delegation to visit the mainland aimed at easing cross-strait tensions. [newsphoto]

"We hope to help ease cross-strait tensions to ensure people's wellbeing... to do what the government does not do and can not do," said Kuomintang (KMT) party vice chairman P.K. Chiang, who headed the delegation.

"We will also discuss cross-strait issues such as the opening of direct transport links and better protection of Taiwanese businessmen in the mainland," Chiang told reporters before departing with the 30-strong mission.

In Guangzhou, they will pay homage Tuesday to 72 KMT martyrs who died overthrowing the Qing Dynasty and founding the Republic of China in 1912.

During his stay in Guangzhou, Guangdong Governor Huang Huahua will throw a banquet in Chiang's honor Monday evening, and Huang will brief Chiang on Guangdong's development, according to a China New Service report.

They are scheduled to visit Nanjing Wednesday to pay respects to Sun Yat-sen, the founding father of the republic, before flying to Beijing where they will meet with high-ranking officials in charge of Taiwan affairs Thursday.

The China Times said Jia Qinglin, a political bureau member and deputy head of the central Taiwan Affairs Office, was to meet with the KMT group Thursday.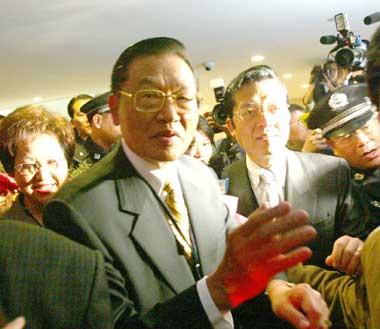 Chiang Pin-kun, vice chairman of Taiwan's opposition Kuomintang party, arrives in Guangzhou March 28, 2005 for a historic visit, aimed at easing cross-strait tensions. [newsphoto]

But Chiang was tight lipped about his program. "The appointments have not been fixed. They will be fixed after we arrive in Beijing," Chiang said at Taipei airport.

"As the opposition party, we are willing to do what the government can't, or is unwilling to do," he said ahead of the five-day visit to Guangzhou, Nanjing and Beijing.

Observers said the trip, the first official visit by the KMT to the mainland since it was defeated in the civil war in 1949, was a prelude to a mainland visit by its KMT leader Lien Chan.

The KMT has called for friendly ties with Beijing while Taiwan's ruling Democratic Progressive Party (DPP) attempts to declare the island independent.

"The lingering cross-strait tensions must be eased and to do so, efforts must be taken... the KMT would like to take an active step," Lien said Sunday.

Direct transport, commercial and postal links have been cut since the KMT fled to the island following defeat in the civil war.

Cross-strait ties have worsened since DPP's Chen Shui-bian won the "presidency" in 2000, ending the KMT's 51-year grip on power. He was re-elected last year.







Today's Top News
Top China News

KMT leader in Guangzhou for historic mainland visit




Chirac: Desire to lift EU arms ban 'legitimate'




New method may stop HIV spreading




New Kyrgyz leaders to avert split after coup




Chinese embassy helps nationals in Bishkek




China to end bailout of bankrupt state firms