Iverson leads 76ers Past slumping Lakers
(Agencies)
Updated: 2005-03-28 13:16
Allen Iverson scored 13 of his 20 points in the fourth quarter and tied his career high with 15 assists, and the Philadelphia 76ers overcame a horrendous shooting performance by the NBA's leading scorer to beat the Los Angeles Lakers 96-89 Sunday.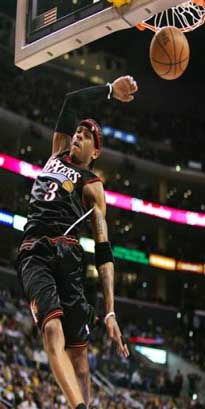 Philadelphia 76ers' Allen Iverson dunks the ball during the first half against the Los Angeles Lakers, Sunday, March 27, 2005, in Los Angeles. [AP]

Iverson, who entered shooting 42.1 percent and averaging 30.5 points, shot 2-for-20 in the first three quarters and 5-of-28 overall along with 10-of-14 from the foul line.

The win was the third straight for the 76ers (35-34), who raised their record above .500 for the first time since they were 4-3.

The 76ers moved into a tie for seventh with Indiana in the Eastern Conference ¡ª three games ahead of ninth-place Orlando.

The Lakers (32-37) committed a season-high 27 turnovers in losing their eighth straight game ¡ª their second-longest losing streak since they moved from Minneapolis to Los Angeles in 1960.

The Lakers lost their last 10 games of the 1993-94 season. That was the last time they failed to qualify for the playoffs, something they seem destined to do this year for just the second time since 1976. They are in 10th place in the Western Conference, and trail Denver for the eighth and final playoff berth by 6 1/2 games with 13 remaining.

Andre Iguodala added 18 points and nine rebounds, Chris Webber had 14 points and 14 rebounds, Marc Jackson also scored 14 points, and Samuel Dalembert had 11 points and 10 rebounds for the 76ers.

Kobe Bryant scored 15 of his 34 points in the fourth quarter and also had 10 rebounds and five assists to lead the Lakers. Chris Mihm had 17 points and 11 rebounds and Caron Butler added 13 points and 10 rebounds.

Lamar Odom, the Lakers' second-leading scorer, sat out his fourth game because of a slight tear and bruised rotator cuff in his left shoulder. Odom told reporters about 90 minutes before game-time that he planned on playing, but Lakers spokesman John Black later said Odom wasn't cleared by the team's medical staff.

The Lakers' 24th turnover resulted in a pair of free throws by Iverson, giving Philadelphia a 78-76 lead. Mihm's tip-in tied the game, but fast-break baskets by Aaron McKie, Iguodala and Dalembert put the 76ers on top 84-78 with 5:05 remaining.

Bryant scored five straight points before Iverson's three-point play with four minutes left gave Philadelphia a four-point lead, and Iverson added another basket with 3:15 remaining to make it 90-85.

The Lakers weren't closer than five points after that.

The Lakers scored 11 straight points for a 53-47 lead early in the third quarter. Iverson kept misfiring, but the Lakers kept turning the ball over, so the game stayed close. Jackson scored four straight points and Webber added a basket to cap a 17-7 run and put the 76ers on top 64-60.

It was 64-63 entering the fourth quarter. Iverson shot an air ball as the third period ended, and waved his left hand in disgust. He shot 0-for-8 in the quarter.

After starting 1-for-11, Iverson made a dunk as the second quarter ended to give the 76ers a 43-40 halftime lead.

The Lakers' previous season-high in turnovers was 24 at New Orleans in a 106-98 victory Nov. 9. ...The Lakers lost their third straight home game ¡ª giving them their longest losing streak at home since the 1993-94 season. ... The 76ers are 9-6 since acquiring Webber from the Sacramento Kings last month. ... Brian Grant made his second start of the season in Odom's place. A technical foul was called on Bryant with 4:03 left in the third quarter after he picked up two quick fouls, giving him four in the game.




| | |
| --- | --- |
| | |
| Ref's decision sparks fury | |

| | |
| --- | --- |
| | |
| China loses to Spain 0-3 | |

| | |
| --- | --- |
| | |
| Netherlands face Romania in World Cup European zone Group one qualifier | |
Today's Top News
Top Sports News

KMT leader: Mainland visit to recall past, do business




Chirac: Desire to lift EU arms ban 'legitimate'




New method may stop HIV spreading




New Kyrgyz leaders to avert split after coup




Chinese embassy helps nationals in Bishkek




China to end bailout of bankrupt state firms