Zimbabwe clergyman urges Mugabe's ouster
(Agencies)
Updated: 2005-03-28 09:29
One of Zimbabwe's most outspoken church leaders on Sunday called for a peaceful uprising against President Robert Mugabe's rule, days before a parliamentary election that rights groups say already is tainted by years of violence and intimidation.
Roman Catholic Archbishop Pius Ncube of Zimbabwe's second-largest city, Bulawayo, said he was willing to put on his vestments and lead a march to Mugabe's residence himself, but feared: "If I do it, I do it alone."
"The people are so scared," he said. "You are not going to get that where people are so cowardly."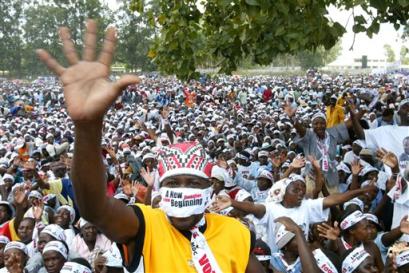 Zimbabwean Movement for Democratic Change (MDC) supporters give the party's open hand salute during an election rally in Harare, Zimbabwe, Sunday, March 27, 2005. Morgan Tsvangirai, leader of the MDC, held the rally ahead of parliamentary elections set for March 31. Zimbabwe's ruling party is confident it will win a two-thirds majority in this week's parliamentary elections, an official said, while the opposition countered that worsening poverty would drive people to the polls to protest President Robert Mugabe's policies. [AP]

Police arrested nearly 200 opposition supporters after a rally Sunday in the capital, Harare, the main opposition Movement for Democratic Change said in a statement.

Mugabe, a former guerrilla leader, has led Zimbabwe since the end of white rule in 1980. Ncube believes Mugabe's Zimbabwe African National Union-Patriotic Front party will easily win Thursday's poll, which he said is certain to be rigged.

"I hope that people get so disillusioned that they really organize against the government and kick him out by a nonviolent, popular, mass uprising," Ncube said in a separate interview with the South African newspaper The Sunday Independent. "Because as it is, people have been too soft with this government."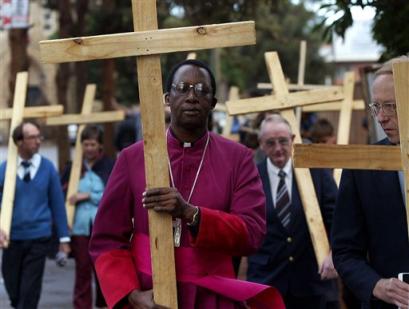 Roman Catholic Archbishop of Bulawayo Pius Ncube (front left) and people from different church groups walk together holding crosses in the street of Bulawayo, Zimbabwe on Friday, March 25, 2005. Ncube took part in the Good Friday procession to show his solidarity for the people suffering in Zimbabwe. [AP]

Ncube confirmed the comments, but was more guarded in an interview conducted over Zimbabwe's state-monitored telephone lines. Calls for unauthorized protests are punishable by up to 20 years in jail.

While this year's election has been less blatantly violent than previous ones, Ncube said "a kind of tacit violence" persists.

He accused the government of denying desperately needed food aid to opposition supporters in rural centers like Filabusi, 250 miles south of Harare, where he said more than 200 hungry families had been turned away.

Ncube also was critical of opposition leaders, who have been at pains to avoid bloodshed since at least 200 people were killed during the government's often violent seizure of thousands of white-owned farms for redistribution to black Zimbabweans.

"We do not have a leader to lead us. We need someone who is courageous," Ncube said. "People must be ready even to risk losing their lives; everyone wants to keep safe."

The tumultuous land reform program, combined with years of drought and a government crackdown on dissent, have plunged the nation of nearly 13 million people into international isolation and economic crisis.

Opposition leaders remain hopeful that change can be brought through the ballot box, encouraged by large turnouts at their rallies in recent days.

"What is needed by Zimbabwe is a new vision, a new Zimbabwe that is able to respond to the crisis that we find ourselves in," MDC leader Morgan Tsvangirai told some 20,000 supporters at a rally Sunday in an impoverished Harare neighborhood.

"Go and vote for food, go and vote for jobs, go and vote for MDC ¡ª and go and vote for your future."

After the rally, opposition officials said police "ran amok" in the Mbare neighborhood, beating up anyone seen putting on MDC T-shirts. Four people were injured and nearly 200 arrested as they left the event singing and chanting slogans, the opposition said in a statement.

Many were released without charge, but at least six were charged with conduct likely to provoke a breach of peace, the statement said. Police could not immediately be reached for comment.




Today's Top News
Top World News

KMT: Mainland visit to recall past, do business




Chirac: Desire to lift EU arms ban 'legitimate'




New method may stop HIV spreading




New Kyrgyz leaders to avert split after coup




Chinese embassy helps nationals in Bishkek




China to end bailout of bankrupt state firms