New Kyrgyz leaders to avert split after coup
(Agencies)
Updated: 2005-03-28 08:34
Kyrgyzstan's new rulers sought Sunday to avert a split in their ranks after their lightning coup, but tension remained high with fresh warnings of possible civil war in the impoverished Central Asian state.
The March 24 coup left the ex-Soviet republic with two rival parliaments and clear strains among opposition leaders, united only by the desire to topple President Askar Akayev.
A protest march to Bishkek that was called off and nervousness that the capital could see more looting highlight the challenge the new leaders face in convincing a confused people their position is legitimate.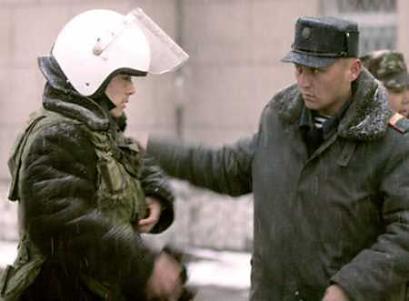 A Kyrgyz police officer pats the shoulder of another policeman before he goes on patrol in the capital, Bishkek, March 27, 2005. [Reuters]

A key opposition leader Felix Kulov, the new security chief who has persuaded police to return to work and ordered them to open fire on looters, suggested he would not run against acting president Kurmanbek Bakiev in a June 26 presidential vote.

"I am so worried, I emphasize this, that in order to prevent anything bad happening it would be better not to run," Kulov told state television.

Until Thursday, Kulov had been in jail on embezzlement charges he said were politically motivated. He was freed after opposition protesters seized the government headquarters.

Acting Prosecutor General Azimbek Beknazarov urged the new authorities to end their differences. "If we do not agree (among ourselves), we will not avoid a civil war," he said.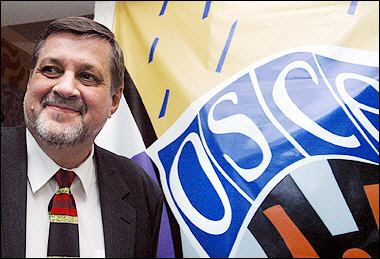 The OSCE General Secretary Jan Kubis enters the hall prior to his press conference in Bishkek. Jan Kubis arrived in Kyrgyzstan for talks with its new leadership Sunday, amid an intense struggle for power in parliament following the chaotic toppling of the Central Asian nation's Soviet-era regime. [AFP]

The head of the Organization for Security and Cooperation in Europe (OSCE), who has sent a team to Kyrgyzstan, backed his view.

"All of us must prepare contingency plans in case the political sides fail to agree and massive violence does break out," Chairman-in-Office and Slovenian Foreign Minister Dmitrij Rupel told the International Herald Tribune daily.

"Bloodshed is still a possibility in Kyrgyzstan."

FEUDING PARLIAMENTS

Akayev, who had been in power for 14 years, left Kyrgyzstan after the coup but says he has not resigned. The Kremlin has indicated he is in Russia.

Feuding to fill the power vacuum has already broken out in parliament, where deputies of the outgoing chamber and those elected in discredited parliamentary polls in February and March vied for legitimacy in competing sessions.

Though freed following protests against the new parliament, Kulov said Sunday he would only obey orders from the newly-elected legislature. He warned members of the old parliament against stoking tensions.

"Whether you like it or not, you were elected for five years," he said. "If you call people out onto the streets, I'll take measures to arrest you, please don't take offence."

However, Bakiev said Saturday the old parliament, which appointed him, should continue working at least until all disputes over the election had been resolved.

Addressing another problem, Bakiev said he would restore a power balance between influential regional clans.

Akayev, whose power base is in northern Kyrgyzstan, has alienated clans from the poorer south forcing them into opposition to his rule. There were fears that southerners dominating the new administration would simply reverse the situation.

"I will stick to the following rule of having people from both south and north (in administration) to have some kind of balance," Russia's RIA news agency quoted Bakiev as saying.

The new leaders have survived an initial challenge from ousted interior minister Keneshbek Dushenbayev who tried to lead a protest march to Bishkek Saturday. The marchers dispersed after failing to win support.

But the visiting OSCE team said the threat was not over.

"The political situation in this country has improved, but the crisis has not been resolved," OSCE special envoy to Kyrgyzstan, Alojz Peterle, told a news conference in Bishkek.

Markus Mueller, the OSCE ambassador, said the decision to run polls in three months only made matters worse.

"We can only have elections when we have a certain level of stability," he said.

CONCERN AMONG NEIGHBORS

Kyrgyzstan's instability may deepen concern among authoritarian leaders in neighboring Kazakhstan, Tajikistan and Uzbekistan.

The region, rich in oil and gas deposits, is viewed with keen interest by Moscow and Washington, which both have military bases in Kyrgyzstan, a mainly Muslim country of 5 million.

The problem of feeding the population against a background of spiraling food prices and shrinking supplies has become a major challenge.

Saturday, Bakiev phoned Russian President Vladimir Putin to ask for food, fuel supplies and cheap credits to keep the economy running. He said Putin had reacted positively.




Today's Top News
Top World News

KMT: Mainland visit to recall past, do business




New method may stop HIV spreading




Chirac: Desire to lift EU arms ban 'legitimate'




New Kyrgyz leaders to avert split after coup




Chinese embassy helps nationals in Bishkek




China to end bailout of bankrupt state firms