Chirac: Desire to lift EU arms ban 'legitimate'
(Agencies)
Updated: 2005-03-28 07:39
TOKYO - French President Jacques Chirac told a concerned Japan that China's desire for the European Union to lift its arms embargo was "legitimate" and would not entail exports of sensitive weapons and technology.
France has been a prime supporter of ending the ban on selling arms to China, a move opposed by both the United States and its ally Japan.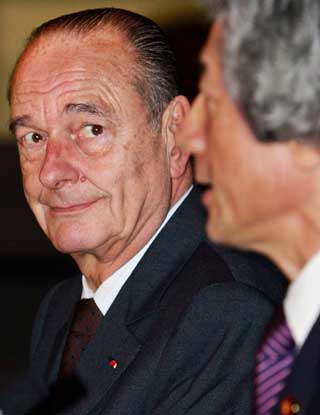 French President Jacques Chirac (L) listens to Japanese Prime Minister Junichiro Koizumi's speech during a joint news conference after their summit meeting in Tokyo March 27, 2005. Chirac is on a three-day official visit to Japan. [Reuters]

"The prime minister told me of his concerns. He asked me for explanations," Chirac told a joint news conference after talks with Prime Minister Junichiro Koizumi.

"I indicated to him that the decision of the European Union does not imply a change in exports of sensitive arms or technology to China as they are subject to rules which cannot be broken," Chirac said.

"Hence the decision does not mean things would change. It's a political decision," he said.

"We believe that this lifting is legitimately sought by China and that's why we have taken this decision."

Koizumi reiterated Japan's opposition to lifting the embargo.

"We told the president that we are against it," Koizumi said.

"Japan does not regard China's economic growth as a threat. Rather we regard it as an opportunity. However, in relation to security concerns such as the Taiwan issue Japan has been asking for a peaceful resolution," Koizumi said.

The European Union had initially set a goal of lifting the ban by the end of June, when the presidency of the 25-member bloc shifts from Luxembourg to Britain.

Britain had suggested that the end of the weapons sale ban could be delayed after China on March 14 adopted the Anti-Succession Law. Chinese Foreign Ministry said China opposes to linking the lifting of arms ban with the new law, saying they are irrelevant.

But Chirac has vowed to push ahead and end the embargo by the end of June.

A joint statement after talks between Chirac and Koizumi said the two countries sought to understand each other.

"France expressed its desire to contribute actively with Japan to peace and the lasting stability of the region," the statement said.

It said Japan believed "there are a number of major uncertainties" in "the security situation in East Asia."

Chirac and Koizumi said the two countries agreed to expand dialogue "to follow the evolution of the situation in the region and to develop common views."




Today's Top News
Top World News

KMT: Mainland visit to recall past, do business




New method may stop HIV spreading




Chirac: Desire to lift EU arms ban 'legitimate'




New Kyrgyz leaders to avert split after coup




Chinese embassy helps nationals in Bishkek




Immigrants drown, abandoned by smugglers