Tibetan antelope tipped as Olympic mascot
By Liang Chao (China Daily)
Updated: 2005-03-28 06:05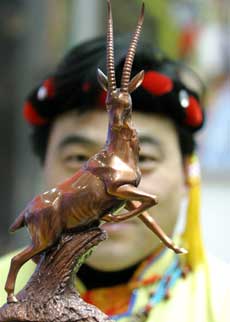 A carving of the Tibetan antelope is one display in a show in Beijing March 27, 2005 as activities lobby hard to select antelope as the 2008 Beijing Olympic Games mascot. [newsphoto]

Tibetan antelope has entered the highly competitive race to be selected as the animal emblem of the 2008 Beijing Olympic Games.

The protected animal is seen as fully reflecting the spirit of the Olympics, and will help create "a green, people's and scientific" Olympic Games, officials and experts argued yesterday as fierce debate rages nationwide.

"As a unique animal of China, the Tibetan antelope is a beautiful animal surviving in the harsh area from 4,000 to 5,500 metres above sea level which is part of the Qinghai-Tibet Plateau known as the 'area forbidden to mankind'," Ma Peihua, vice-governor of Qinghai Province, Northwest China, said.

But there is stiff competition in the form of the giant panda, the South China tiger, and the Monkey King - the beloved character from the classic work "Journey to the West."

Insiders say the emblem may be composed of two or three images. In Sydney in 2000 the emblem featured three animals, and there were two for this summer's Athens Games.

Chen Runsheng, secretary-general of the China Wildlife Conservation Association (CWCA) made it clear that the "campaign supporting China's rare or endangered species of wild animals can raise awareness about animal protection no matter which wins the mascot competition."

Lobbying on behalf of the animal in Beijing, Ma said: "The Tibetan antelope is much more sporty than other recommended animals reflecting 'higher, faster and stronger'" - the spirit of the Olympics.

Their top speed can be 70 to 100 kilometres per hour at a high altitude where oxygen levels are just half that of the plains.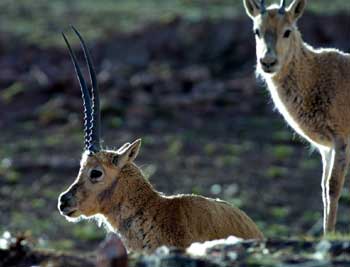 Tibetan antelopes in this May 27, 2004 file photo. [newsphoto]

During migration they run through thousands of kilometres of sterile land covered with gravel either at the risk of attacks by wolves or cold-blooded poachers.

More than 1 million Tibetan antelope used to live in the Tibet-Qinghai Plateau 100 years ago, according to Cai Ga, director of the management bureau of the Hoh Xil State Nature Reserve.

Their numbers dropped drastically to about 20,000 in the 1980s and 90s due to poaching for luxurious shahtoosh shawls made of the animal's fur.

But the population has increased to about 50,000 following a decade of protection efforts, said Cai.

"With an annual budget of 200,000 yuan (US$24,096) from the government, we have six protection stations set up in the Hol Xil Natural Reserve stretching 45,000 square kilometres across parts of Tibet and Xinjiang," he said.

Last year, for the first time since the 1980s, no cases of antelope poaching were reported in the protected area due to the hard work of the 35 wardens that patrol day and night.

(China Daily 03/28/2005 page1)




Today's Top News
Top China News

KMT leader: Mainland visit to recall past, do business




Chirac: Desire to lift EU arms ban 'legitimate'




New method may stop HIV spreading




New Kyrgyz leaders to avert split after coup




Chinese embassy helps nationals in Bishkek




China to end bailout of bankrupt state firms