Iraq Qaeda says kills kidnapped colonel
(Agencies)
Updated: 2005-03-27 08:46
Al Qaeda's wing in Iraq said it had shot dead a senior Interior Ministry official kidnapped last month, and posted a video of the apparent killing on the Internet on Sunday.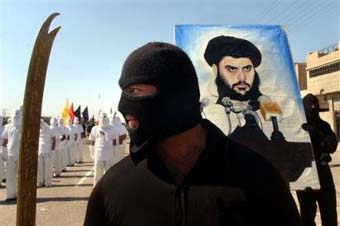 Members of the al-Mahdi army, the militia of cleric Muqtada al-Sadr, pictured at right, march in central Baghdad, Iraq, Saturday, March 26, 2005.[AP]

The video showed a man, who identified himself as Colonel Riyadh Katei Aliwi, sitting on a chair with his hands bound behind his back in front of a black flag of the al Qaeda Organization for Holy War in Iraq. Two masked militants stood by him with machine guns.

"I worked at the Interior Ministry and cooperated with American forces by giving them names and addresses of former army officers," the man said. A ministry card shown on the video identified him as a liaison officer.

On the tape, he also said there was widespread torture of prisoners, including women, at the ministry.

A militant was later shown shooting the man in the head after reading a statement saying he had been condemned to death by the group's own Islamic court as "an apostate fighting God and his Prophet (Mohammad)."

The group, headed by Jordanian militant Abu Musab al-Zarqawi, has claimed responsibility for some of the bloodiest suicide bombings and attacks against U.S. troops and Iraq's fledgling security forces.




Today's Top News
Top World News

Anger spreads over Japan's 'twisted' history books




KMT's mainland trip aims to ease tension




Chinese warned against travel to Kyrgyzstan




Beijing lifts controls on migrants




New rules to safeguard charms of old Beijing




Cross-Straits ties threatened by protest