Christian east Beirut rocked by new explosion
(Agencies)
Updated: 2005-03-27 08:44
A huge car-bomb explosion rocked an industrial area in east Beirut, killing two people in the third blast in a Christian district in a week that was certain to heighten fears of renewed communal strife at a moment when Lebanon is paralyzed politically.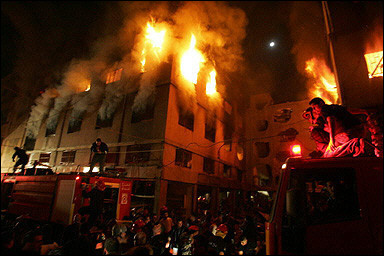 Rescuers and firemen try to extinguish the blaze of burning buildings at the site of a huge explosion in an industrial district near the Christian subburb of Dekouaneh in Beirut. The explosion was caused by a car bomb, a police officer said. [AFP]


A police officer said the mid-evening blast was caused by a car bomb near the district of Dekouaneh, east of here, set several buildings ablaze and did extensive material damage.

And for the second time in seven days Indian workers accounted for the fatalities, according to the official news agency ANI, which added that eight people were hurt, including a Sri Lankan.

The scene was described by one witness as "an apocalyptic sight" as fire engines and ambulances rushed to the scene under a huge cloud of black smoke.

Beirut has been jittery since 11 people were injured when a bomb exploded beneath a car in the Christian suburb of Jdeide on March 19, an attack that was followed by another bomb blast in Kaslik north of here on Wednesday that killed three people, including two Indian workers.

The previous two explosions were blamed by the Lebanese opposition on Syrian-backed Lebanese security agents determined to stir up sectarian strife at a time when Lebanon is without a permanent government and as Syrian troops withdraw from the country under intense international pressure.

"It's a provocation against civil peace," said opposition leader Walid Jumblatt of the latest incident, the third since the February 14 assassination of former prime minister Rafiq Hariri.

"A new leadership is absolutely necessary to take matters in hand. The current leadership, which is collapsing, is trying to defend itself by terrorist means," Jumblatt charged.

Another opposition figure, Walid Eido, accused Lebanese "security services" and said it represented a "criminal intent to plunge the country into chaos -- politically, economically and with regard to security."

Opponents have also accused Lebanese and Syrian intelligence agents in the attack on Hariri, despite denials by authorities here and in Damascus.

His death galvanized momentum in a campaign to pressure Syria into withdrawing the estimated 14,000 troops it has stationed in Lebanon.

As a result, Syrian President Bashar al-Assad has begun calling home his troops, 4,000 of whom have already returned to Syria, in accordance with a United Nations (news - web sites) Security Council resolution.

The assassination also forced the resignation February 28 Prime Minister Omar Karameh in the face of public fury and after several huge demonstrations.

Karameh was called back to the premiership by President Emile Lahoud on March 10 but has so far been unable to persuade opposition MPs to join him in a cabinet of national unity and the nation is therefore in a state of political paralysis.

But Lebanese authorities on Saturday acceded to a key opposition demand by agreeing to an international panel to determine who killed Hariri. The decision followed the release of a harsh UN report on Thursday that faulted Lebanese authorities for carrying out a grossly negligent probe into the attack.

"Lebanon agrees to the creation of an international commission of inquiry if the Security Council takes such a decision to uncover the truth in the assassination of Rafiq Hariri," Foreign Minister Mahmoud Hamoud told reporters.

Lahoud, who is backed by Syria, also pledged full cooperation Saturday with the United Nations "on whatever method it adopts in order to know the identity of the perpetrators of the crime."




Today's Top News
Top World News

Anger spreads over Japan's 'twisted' history books




KMT's mainland trip aims to ease tension




Chinese warned against travel to Kyrgyzstan




Beijing lifts controls on migrants




New rules to safeguard charms of old Beijing




Cross-Straits ties threatened by protest