Lebanon criticizes U.N. report on Hariri
(Agencies)
Updated: 2005-03-26 09:08
Lebanon's pro-Syrian leaders Friday rejected a sharply critical U.N. report blaming Damascus for stoking tensions that may have led to the assassination of former premier Rafik Hariri, but they grudgingly accepted a U.N. investigation into the slaying.
The report embarrassed the Lebanese government and its backers, saying Syria's president personally threatened Hariri with harm for his opposition to Damascus' domination and criticizing Lebanon for a halfhearted investigation into who killed him in a Feb. 14 bombing.
But a U.N. inquiry could be more damaging, if more aggressive investigators have powers to subpoena officials and carry out searches as the report recommends. The report also said a probe would be difficult while Lebanon's security chiefs are in place, bolstering a top demand of Lebanon's anti-Syrian opposition.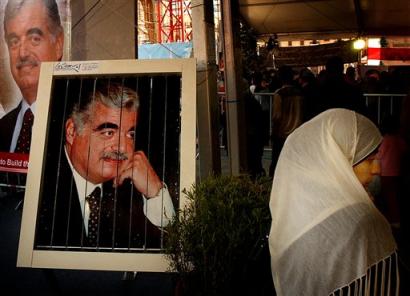 A Lebanese woman stands by posters of slain former Lebanese Prime Minister Rafik Hariri at the grave in Martyrs' Square at central Beirut, Lebanon, on Friday, March 25, 2005. A U.N. report into the killing of former Lebanese Prime Minister Rafik Hariri demanded a new international investigation after determining that Lebanon's authorities bungled, if not outright manipulated, their probe of the killing. [AP]

It was unclear if the government would consent to broad powers for an investigation. Asked Friday how Lebanon's justice system would deal with an inquiry if established by the U.N. Security Council, Lebanese Justice Minister Adnan Addoum had a list of technical and legal concerns.

"This is a subject that requires a long research in international law, the limits and jurisdictions and what kind of court is right for this subject," he said, though he insisted Lebanon will abide by international decisions.

But, under stepped-up pressure, the government may have a hard time avoiding an aggressive inquiry. Told by U.N. chief Kofi Annan about the report's contents, Lebanese President Emile Lahoud late Thursday agreed to a U.N. investigation, which his government had repeatedly rejected.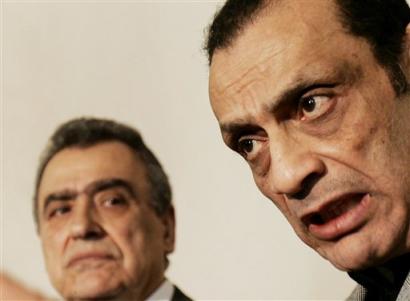 Lebanese Justice Minister Adnan Addoum, right, and Lebanese Foreign Minister Mahmoud Hammoud, left, hold a joint press conference in Beirut, Lebanon, Friday March 25, 2005. The government on Friday criticized a U.N. report accusing it of negligence in the assassination of former Prime Minister Rafik Hariri, saying the fact-finding mission has exceeded its authority.[AP]

Foreign Minister Mahmoud Hammoud said Friday the government "welcomes all means" to find the truth about the bombing that killed Hariri and 17 others on a Beirut seafront street.

Hariri's death sparked massive demonstrations in Lebanon that shook Syria's domination of its politics, disrupting the government and helping force Damascus to pull back its 14,000 troops in Lebanon. Many Lebanese accuse the governments in Beirut and Damascus of being behind the slaying, a claim both vehemently deny.

Discussing a U.N. inquiry, Chibli Mallat, an international law professor at St. Joseph's University in Beirut, told LBC television that "under international law, immunity no longer applies to anyone, including the presidents of Lebanon or Syria, if they are asked to testify or in case they were indicted."

Government ministers were defensive Friday as they held news conferences to dispute the report's findings that their government had botched, if not outright manipulated, its own investigation into Hariri's killing.

Defense Minister Abdul-Rahim Murad was visibly angry over claims Syria and Lebanon were lax in security. "Why American forces in Iraq do not uncover the car bombs and the operations against civilians and the American army?" he asked at a news conference.

Hammoud said the U.N. mission overstepped its mandate in accusing the government of negligence. "This descriptive report ... reaches conclusions that are not based on documented evidence," Hammoud said.

Opposition legislator Marwan Hamadeh said the ministers' action emanated from "panic." And another, Fares Soeid, said it showed "they lost their nerves."

The report does not directly assign blame in the killing but says Syria is "primarily responsible" for the tensions that may have led up to it.

"It is clear that the assassination took place in a political and security context marked by an acute polarization around the Syrian influence in Lebanon," it said, adding that Syrian military intelligence shared responsibility with Lebanese security forces for failing to provide security.

The report quoted testimony in Lebanon and abroad as saying President Bashar Assad threatened Hariri and opposition leader Walid Jumblatt with physical harm if they opposed a Syrian-backed proposal extending Lahoud's term in office.

Assad told Hariri at their last meeting in the summer that he "would rather break Lebanon over the heads of Hariri and Jumblatt rather than see his word in Lebanon broken," according to the testimony.

The U.N. report said there was a "distinct lack of commitment" by Lebanese authorities to investigate Hariri's death. It said it let evidence be ruined before it was collected and that security officials placed parts of a pickup truck in the blast crater well afterward, photographed them and labeled them evidence.

Hammoud rejected Syrian responsibility for the tension, blaming it instead on U.N. Resolution 1559, which was passed in September and called for Syria to withdraw its troops from Lebanon and stop interference in Lebanon.

"This resolution pushed the atmosphere toward political polarization," he said.

Addoum denied the report's claim of truck parts being placed in the crater, noting that the wreckage was recovered from the sea by international divers.

Interior Minister Suleiman Franjieh acknowledged "flaws" in the security system, but he said the report did not directly accuse the government. He supported an international investigation.

Syria's U.N. Ambassador Fayssal Mekdad said the report contained "too much rhetoric." He, too, blamed tensions on the U.N. resolution, which he said "was not called for."

Apart from the defensive action by government officials, there was little public reaction to the report, whose contents were a matter of public discussion and media reports in recent weeks.

The only new element in the report is where the bomb was placed and its size. The report confirmed the blast was by a surface explosion of about a ton of TNT. The government contended that Hariri's motorcade was struck by a car bomb.




Today's Top News
Top World News

New rules to safeguard charms of old Beijing




KMT's trip aims to ease tension




Japan, China row heats up over UN seat




Forex chief elected to chair bank




Anger spreads over Japan's 'twisted' books




New Kyrgyz leaders seek order in tense times