US to sell F-16 fighter jets to Pakistan
(Agencies)
Updated: 2005-03-26 08:48
The United States announced plans to sell F-16 fighter jets to Pakistan despite objections from Islamabad's nuclear-rival India.
The sale was part of a new strategic approach to the troubled subcontinent that was presented to both countries by US Secretary of State Condoleezza Rice on her visit there earlier this month, a senior US official said, speaking on condition of anonymity.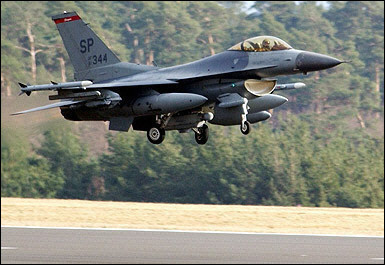 A US F-16 jet fighter takes off in 2003 from the US airbase Spangdahlem, Germany. Key US ally Pakistan welcomed a decision by Washington to sell it F-16 fighter jets despite the opposition of nuclear-armed rival India.[AFP/File]

US President George W. Bush on Friday telephoned Indian Prime Minister Manmohan Singh to inform him of the decision, White House spokeswoman Dana Perino said.

Singh expressed to Bush his "great disappointment," saying it could have "negative consequences" for India's security, according to the Indian leader's spokesman, Sanjaya Baru, in New Delhi.

But the US official said "we don't see any impact on the relevant military balances in the region," adding that the United States was prepared to sell the F-16 and the more sophisticated F-18 fighters to India if they wanted them.

The sale to Islamabad was to make Pakistan more secure, the official said. "It's in the interest of India, Pakistan and the United States that Pakistan feels secure."

India and Pakistan have fought three wars since independence from Britain in 1947 and came close for a fourth clash in 2002.

Pakistan, which has become a major ally of the United States in its war on terror after the September 11, 2001, attacks on the United States, said it would buy the latest version of the F-16.

"We welcome this good gesture and it shows good friendship between Pakistan and the United States," Information Minister Sheikh Rashid said in Islamabad.

The US official said although the number of F-16's offered to Pakistan would be "relatively small, there is no set limit on what the United States is going to be willing to sell."

US officials said Congress was notified Friday of the sale to Pakistan, which already has such combat aircraft.

Democratic Representative Tom Lantos said Pakistan had been a valuable ally in the war against terrorism and gave "strong" support to the F-16 sale.

Islamabad reportedly wants to buy up to 25 additional units.

It has been seeking additional multi-role fighter jets since 1990 when a deal for 40 such planes fell through because of US concerns over the country's nuclear programme.

But relations between the United States and Pakistan warmed up after Islamabad helped the Americans topple the hardline Taliban regime in Afghanistan in 2001.

India says arming Pakistan with the sophisticated warplanes would upset the military balance in the region and cast a shadow over the slow dialogue process under way between the nuclear-armed neighbours.

Pramit Mitra, an analyst with the Center of Strategic and International Studies, said among key questions about the sale were: the number of planes to be sold to Pakistan and whether they would have a capability to arm nuclear weapons in mid-air.

Washington had previously expressed a desire to remove that capability, he said.

The United States should have made the sale conditional upon Pakistan promising not to increase the size of its nuclear arsenal, halting any production of fissile materials for nuclear weapons as well as implementing reforms on export controls, said Brookings Institution analyst Michael O'Hanlon.

"This would have been a better way to justify the F-16 sale," he said.

India is considering buying combat aircraft "on a scale very large," the anonymous US official said.

It is believed India was eyeing a variety of aircraft, including Lockheed Martin's F-16s, France's Dassault Aviation's Mirage jet fighters, Swedish-made Gripen fighters and the Russian MiG range, made by Mikoyan-Gurevich.

US officials said Washington was willing to work with New Delhi in defense co-production and technology licensing, and covering areas such as command and control, early warning systems and missile defense as part of a plan to make India a "major world power in the 21st century".




Today's Top News
Top World News

New rules to safeguard charms of old Beijing




KMT's trip aims to ease tension




Japan, China row heats up over UN seat




Forex chief elected to chair bank




Food safety spawns public concern




Anger spreads over Japan's 'twisted' books