New Kyrgyz leadership seeks to restore order
(Agencies)
Updated: 2005-03-26 08:38
Kyrgyzstan's new leadership will seek on Saturday to tighten its grip on the Ex-Soviet Central Asian state where there were few signs of the serious looting seen in the capital the previous night.
Occasional gunfire could still be heard and plumes of smoke hung in the air near a shopping center but by the early hours the capital Bishkek appeared relatively quiet.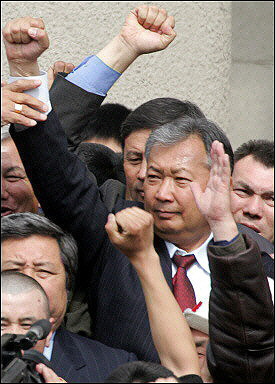 Kyrgyz opposition leader Kurmanbek Bakiyev in front of the Parliament building in Bishkek. [AFP]

The transitional government, appointed on Friday, tried to quell the lawlessness that followed the toppling of President Askar Akayev on Thursday after days of violent protests.

More police were on the streets on Friday night and television pictures showed them firing into the air to disperse crowds. Senior opposition figure Felix Kulov, now in charge of security, said he was setting up mobile police patrols.

Acting president Kurmanbek Bakiev, an opposition leader who played a central role in protests, appointed key interim ministers on Friday and said presidential polls would be held in June.

Bakiev said the veteran leader's departure stripped him of any moral right to be head of state and he could expect a harsh reception on his return.

"The indignation which people feel toward him and his family is very deep," Bakiev told Russian state television. "That is why there is a certain danger for his return."

GEORGIA AND UKRAINE

Akayev confirmed on Friday he had left the country but did not say where he had gone. He said he was still the legitimate president and his absence was only temporary. The opposition had carried out an "anti-constitutional coup."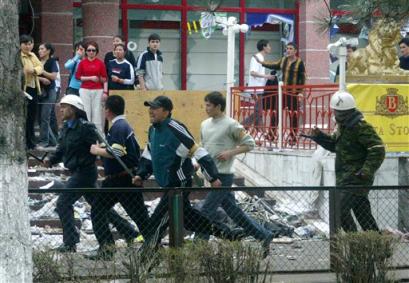 Law enforcement officers and opposition volunteers pursue looters at a shopping center on the main street, Beta Stores, in Bishkek, Kyrgyzstan, Friday, March 25, 2005. The opposition scrambled to restore law and order and fill the power vacuum Friday, a day after protesters drove Kyrgyz President Askar Akayev's government from power, unleashing widespread looting. [AP]

Impoverished Kyrgyzstan became the third ex-Soviet state in two years, after Georgia and Ukraine, where a revolt after disputed elections has ousted the entrenched leadership. Unlike the two others, though, Kyrgyzstan's revolution was violent.

Events in Kyrgyzstan could raise questions for other authoritarian Central Asian governments in neighboring Kazakhstan, Uzbekistan and Tajikistan. The area, rich with oil and gas, has a history of ethnic rivalries and clan divisions alongside the political tensions of the post-Soviet period.

Heavy rain hammered Bishkek's streets at night, which during the day had been littered with broken glass and naked mannequins ripped from shop windows as well as discarded stolen merchandise from the previous evening's rampage. Witnesses said Bishkek's wealthy families had been packing up their possessions and leaving their homes, afraid they could be the looters' next targets.




Today's Top News
Top World News

Anger spreads over Japan's 'twisted' history books




KMT's mainland trip aims to ease tension




Japan, China row heats up over UN seat




New rules to safeguard charms of old Beijing




Cross-Straits ties threatened by protest




Forex chief elected to chair bank