Japan, China row heats up over UN seat
(chinadaily.com.cn)
Updated: 2005-03-25 16:38
Japan fanned the blaze of a raging row with China on Friday, by saying the lifting of the EU arms embargo on China would be a "big problem" for Asian stability.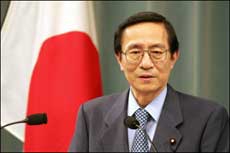 Japan's Chief Cabinet Secretary, Hiroyuki Hosoda, said March 25, on the eve of a visit by French President Jacques Chirac that the lifting of the EU arms embargo on China being pushed by France would be a 'big problem' for Asian stability. [AFP]

Japan is wooing world leaders for a favorable consideration of its bid for a permanent seat at the United Nations Security Council. On Thursday, more than one million people, mostly Chinese, signed their names at the sina.com site to voice their opposition to Japan's eligibility.

Chinese Government now faces daunting pressure to be tough with Japan, analysts said.

On the eve of a visit by French President Jacques Chirac, Japanese Government Chief Cabinet Secretary Hiroyuki Hosoda said: "Considering stability in Asia, the United States and Japan share the awareness that resuming arms exports would be a big problem."

Hosoda said the issue of the arms embargo would likely be on the agenda when Chirac meets Prime Minister Junichiro Koizumi in Tokyo Sunday.

President Chirac said Wednesday he still expected an agreement to lift the ban by the end of June, despite signs the 25-member EU bloc could delay its decision.

Washington has been pressuring Europe not to lift the ban. US lawmakers have even threatened to levy punitive trade sanctions on European companies if the embargo is lifted, which was imposed 16 years ago.

China says the embargo is political discrimination and also a nuisance in better Sino-EU relations.

Chirac, accompanied by his wife Bernadette and a delegation of French business leaders, will arrive in the western city of Osaka on Saturday and then head by train to Nagoya to see the World Exposition. From there he will go to Tokyo Sunday to meet Koizumi.

Meanwhile, South Korean President Roh Moo-hyun said that his country is ready for a "diplomatic war" with Japan as tensions flared between the neighbours over a territorial row and a Japanese textbook critics say whitewashes Japan's militarist history.

He said that South Korea's determination to set Japan right "may cause stinging diplomatic war", but pledged to press Japan to take actions he saw as corrective and persist until Tokyo "listens and does what it rightly has to do."

The comments were the strongest ever on Japan from Roh, who until last year vowed not to let the history get in the way of improving ties with Tokyo.

South Korea's anger was triggered when a local Japanese assembly last week passed a measure asserting Japan's claim to desolate islands, called Tokto in Korea and Takeshima in Japan.




Today's Top News
Top China News

Japanese textbook distorts history, stirs fury




Shops called to boycott Japanese goods




ADB: China's economy expected to grow 8.5%




400,000 to relocate for water project




Possible US textile safeguards draw criticism




Shrine visit angers both sides of Straits