Bakiev named new Kyrgyz acting president
(Agencies)
Updated: 2005-03-25 16:26
BISHKEK - Kyrgyzstan's opposition, after seizing power in what the ousted leadership called a coup, on Friday named a new acting president and appealed for calm in the capital after a night of violence, burning and looting.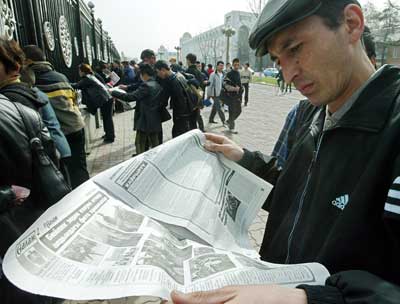 A Kyrgyz man reads a newspaper in front of the presidential office in central Bishkek, March 25, 2005. A Kyrgyz opposition leader called for calm on Friday after protests that plunged into violence and looting that left the capital strewn with broken glass and blood. [Reuters]

President Askar Akayev fled the White House on Thursday -- the seat of government in the mountainous state -- before it was engulfed by thousands of people demonstrating against a disputed parliamentary poll and years of poverty and corruption.

"God forbid anybody would have to have such a revolution," Felix Kulov, freed from jail by supporters on Thursday and appointed acting interior minister, told state television. "It was a rampage of looting, just like in Iraq."

The Kyrgyz ambassador to the United States called it a coup.

"This ... is an anti-constitutional coup," Baktybek Adrisaev told CNN.

Impoverished Kyrgyzstan -- where the average person gets by on a dollar a day -- became the third ex-Soviet state in two years, after Georgia and Ukraine, where popular revolt after disputed elections has ousted the entrenched leadership.

But it is the only one where the protests turned violent.

Opposition leader Kurmanbek Bakiev, who played a central role in Thursday's mass protests in the capital Bishkek where crowds took over the main government building, said he had been named acting president.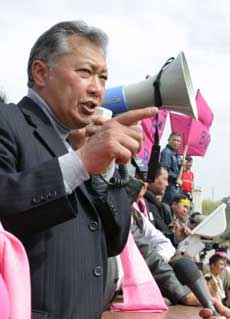 Kyrgyz opposition leader Kurmanbek Bakiev addresses the crowd in front of the presidential residence in central Bishkek, March 24, 2005. Kyrgyzstan's opposition, which on Thursday seized the main government building in the capital, said it was ready to take control of the Central Asian country after days of violent protest. [Reuters]

"Parliament today appointed me prime minister and gave me the functions of president," he told supporters in Bishkek.

Parliament had initially appointed another opposition leader Ishenbai Kadyrbekov as acting president.

Analysts say there is little love lost between the key opposition leaders with Kulov, freed from jail by protesters on Thursday, seen as more popular than Bakiev.

No foreign government has yet recognized the new leadership.

AT LEAST ONE DEAD

At least one man was shot dead during the looting overnight and 31 police officers were wounded, some seriously, Kulov said. Gunshots rang out throughout the night in the city of 800,000.

The widespread looting in Bishkek, now strewn with broken glass and blood stains, followed violent protests in the southern towns of Osh and Jalal Abad earlier this week.

The whereabouts of Akayev himself, who has ruled the country for 14 years, were not known. There were various unconfirmed reports he was in neighboring Kazakhstan.

Ambassador Adrisaev said Akayev was in a safe place and had not resigned.

"Former President Akayev is personally responsible for this. He had a chance to resign, instead of which he ran away," opposition leader Kulov said. "The looters kept shouting 'this shop belonged to the (Akayev) family, this is why it is ours'."

At daybreak some of Bishkek's main shopping centers, their windows all smashed, were still burning. Shop employees arriving for work started to sweep away broken glass and clear up litter.

"Let's show the world we're a civilized country," Kulov said, appealing for calm.

Kulov, 55, a former police chief and once head of the secret services, failed in a bid to become president in elections in 2000. He was appointed interior minister and first deputy prime minister on Thursday.

Most of Kyrgyzstan's opposition leaders are former political allies of Akayev who fell out with him.

The United States has called for calm and for fresh elections to be held, following parliamentary votes in February and March denounced as rigged by the opposition.




Today's Top News
Top World News

Kim invites President Hu to visit Pyongyang




Cross-Straits ties threatened by protest




Bakiev named new Kyrgyz acting president




China's forex chief takes helm of CCB




Higher oil prices fuel tax-for-fee reform




UK accuse US of grave rights violations