Freed Kyrgyz opposition leader calls for calm
(Agencies)
Updated: 2005-03-25 14:38
A Kyrgyz opposition leader called for calm on Friday after protests that saw the opposition claim power plunged into violence and looting that left the capital strewn with broken glass and blood.
President Askar Akayev fled the White House on Thursday -- the seat of government in the mountainous state -- before it was engulfed by thousands of people demonstrating against a disputed parliamentary poll and years of poverty and corruption.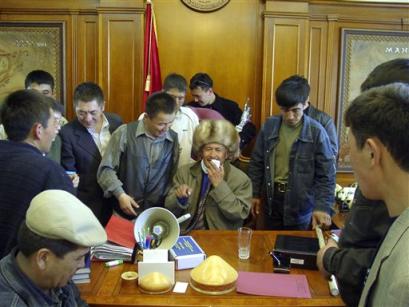 Kyrgyz opposition supporters gather in President Askar Akayev's office in Bishkek, Kyrgyzstan, Thursday, March 24, 2005. An opposition leader, Ulan Shambetov, center background, sits Akayev's chair. Protesters stormed the presidential compound, seizing control of the main seat of state power after clashing with riot police. [AP]

"God forbid anybody would have to have such a revolution," Felix Kulov, freed from jail by supporters on Thursday and appointed acting interior minister, told state television. "It was a rampage of looting, just like in Iraq."

The Kyrgyz ambassador to the United States described events as an "anti-constitutional coup."

"This ... is an anti-constitutional coup and they are now trying to manage the situation according to their own scenario," Baktybek Adrisaev told CNN, speaking in English.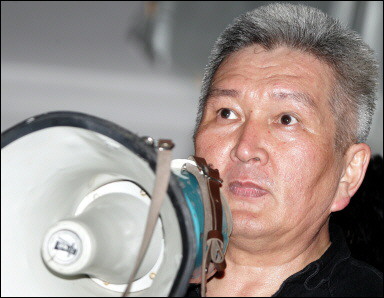 Kyrgyz opposition leader Felix Kulov addresses supporters in front of the presidential palace in Bishkek. Kyrgyz veteran leader Askar Akayev has resigned, the top opposition leader was quoted as saying by the RIA Novosti news agency.[AFP]

The events were likely to make the impoverished Central Asian State the third former Soviet state in two years to see its entrenched leadership fall to popular protest after disputed elections, following Ukraine and Georgia, but it is the only one where the protests turned violent.

At least one man was shot dead during the looting overnight and 31 police officers were wounded, some seriously, Kulov said. Gunshots rang out throughout the night in the city of 800,000.

The looting in Bishkek followed violent protests in the southern towns of Osh and Jalal Abad earlier this week.

The whereabouts of Akayev himself, who has ruled the country for 14 years, were not known. There were various unconfirmed reports he had left the country.

Parliament appointed the head of the opposition coordinating committee, Kurmanbek Bakiev, as acting prime minister. It met on Friday to discuss new ministerial positions.

Ishenbai Kadyrbekov, a former construction minister and an influential opposition leader, was named acting president.

AKAYEV "RESPONSIBLE"

"Former President Akayev is personally responsible for this. He had a chance to resign, instead of which he ran away," Kulov said. "The looters kept shouting 'this shop belonged to the (Akayev) family, this is why it is ours'."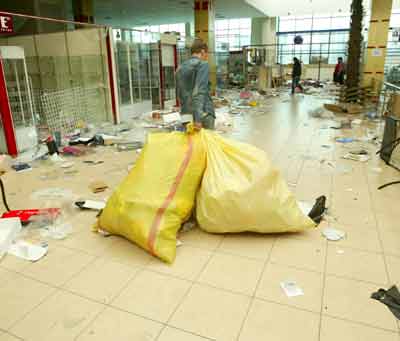 A shop assistant drags bags through the debris of the shopping center in central Bishkek, March 25, 2005. A Kyrgyz opposition leader called for calm on Friday after protests that plunged into violence and looting and left the capital strewn with broken glass and blood. [Reuters]

At daybreak some of Bishkek's main shopping centers, their windows all smashed, were still burning. Shop employees arriving for work started to sweep away broken glass and clear up litter.

"Let's show the world we're a civilized country," Kulov said, appealing for calm.

Kulov, 55, a former police chief and once head of the secret services, failed in a bid to become president in elections in 2000. He was appointed interior minister on Thursday.

Most of Kyrgyzstan's opposition leaders are former political allies of Akayev who fell out with him for one reason or another.

The United States has called for calm and for fresh elections to be held, following parliamentary votes in February and March denounced as rigged by the opposition.

Rumours flew that Akayev had fled the mountainous country, possibly to oil-rich neighbor Kazakhstan or Russia.




Today's Top News
Top World News

Kim invites President Hu to visit Pyongyang




Cross-Straits ties threatened by protest




Kyrgyzstan gov't collapses after protest




China's forex chief takes helm of CCB




Higher oil prices fuel tax-for-fee reform




UK accuse US of grave rights violations