Happy feet makes for good business
By Liu Jie (China Business Weekly)
Updated: 2005-03-25 13:20
Among China's trendsetters, the power lunch is out and the power massage is in.
An increasing number of power brokers and business people in the Chinese mainland are negotiating, and finalizing, deals over one-hour, Chinese-style foot massages which aficionados believe have almost-magical healing power and traditional Chinese medicine.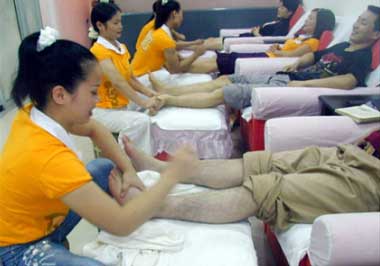 Customers enjoy a session of foot massage at a parlour in this August 22, 2002 file photo. [newsphoto]

In fact, there has been a proliferation of foot massage parlours in various mainland cities.

"If you care about my health, you'd better entertain me with foot washing, not a feast," has become one of the most common phrases heard in many Chinese cities.

Of course, the foot washing is quite different from the way people wash their feet at home.

In essence, it is a foot massage with traditional Chinese characteristics. It helps people relax, it improves their bodies and helps treat diseases.

Zhao Xin, a 35-year-old private entrepreneur, frequents Liangzi store, the largest foot massage chain in China. He even bought a VIP card.

"I come here often with my business partners, for comfort and relaxation induced by a massage, to make negotiations easier and milder," Zhao admits.

He regularly treats his parents to foot massages.

"Although they were not accustomed to such services several years ago, and they thought the price was not worthwhile, they regard it as an investment in health, and they are delighted to receive a foot massage about once a week," says Zhao.

Changes in people's traditional concepts of foot massage have surprised Zhu Guofan, founder and general manager of Liangzi Group, China's first professional foot massage enterprise.

He never expected massaging feet would grow into an industry in China, let alone the world.

Zhu in 1997 opened the first foot massage outlet in Xinxiang, a medium-sized city in Central China's Henan Province. He now operates more than 700 directly controlled or franchised shops nationwide.

Last year, Liangzi's first overseas outlet opened in Seoul, capital of South Korea. The firm plans to open an outlet in Turkey in the near future.

"In June, three Liangzi foot massage chain shops are to open in Rome, Milan and Florence, of Italy," Zhu told China Business Weekly.

He is negotiating, with potential partners, the opening of outlets in France, Spain, the United States, Tunis and Cyprus.

Liangzi's customers include wealthy business people, celebrities and ordinary people.

Last year, Liangzi's Jianguomen outlet, which neighbours one of Beijing's embassy areas, served more than 30,000 foreigners, including tourists. The area is also a business hub, in which the headquarters and representative offices of numerous overseas-funded companies are located.

He said about 80 per cent of the ambassadors to China have had their feet massaged at Liangzi's Jianguomen outlet.

In Liangzi's Huangtaiji (the name of the Qing Dynasty's founding emperor) store, the old-time decorations and herb fragrance create a mysterious, yet elegant, atmosphere.

The outlet has a big room for gatherings, and a small room for private meetings.

A typical foot massage lasts around 100 minutes. The lowest price is 138 yuan (US$16.63).

The massage begins with the dunking of the feet into a wooden barrel containing a liquid medicine blended from 28 kinds of Chinese herbal medicine.

The heated medicine warms the feet, which causes the person's body to sweat. Usually, a masseuse serves men customers while a masseur serves women clients.

After the customer's feet have been cleaned, the masseur or masseuse spreads a thick layer of lotion on the feet and calves, and then rubs and kneads every point of the soles.

Chen Hong, vice-director of Beijing Traditional Chinese Medicine University's Human Function Department, says the feet are an important, but often ignored, part of the body.

Practitioners of traditional Chinese medicine suggest there are 62 reflection points, which correspond with different parts of the body, on the soles of the feet.

"Since the feet are the furthest part of the body from the heart, acid metabolizes in the blood, which causes unused calcium and other organic substances to settle on the feet, where they form tiny air bubbles and nuggets," says Chen.

Applying pressure on the points will help remove harmful matter. It is also a good way to prevent illness.

"However, the benefits of foot massage should not be exaggerated, as it is a kind of health-care method, but it cannot cure diseases," says Chen.

In recent years, the promising sector has attracted tremendous interest from profit-driven business people. Now, there are hundreds of thousands of foot massage outlets throughout China, note sources from the China Foot Health-care Industrial Association, which is affiliated with the Ministry of Health.

In Beijing, the most famous centres include Daban, Renming, Hanfangzhou and Beike Qiaoshi, and the foot massage therapists in five-star hotels, such as Scitech and the Kunlun.

The centres are eyeing the huge market potential that is coinciding with the galloping economy, improving living standards and greater health awareness.

In addition, foreigners, especially those who are addicted to traditional Chinese culture are nurturing the sector.

The rapid development is being accompanied by a series of problems.

Statistics from the China Foot Health-care Industry Association indicate there are more than 100 Liangzi-brand foot massage outlets across China.

"Brand copying is a headache dampening our reputation. I also find the unchecked expansion, via franchises, leaves some stores with little to do with our central office, which means we cannot guarantee strict supervision," says Zhu.

He has decided to reduce the number of outlets to 50, across China, within five years, and to operate them directly or via share-controlling companies to restore Liangzi's image.

Sun Yanhai, a researcher with the Chinese Research Institute of Management Sciences, said the fast growth of a nascent industry can be both good and bad.

"Consolidation is a must, and market-maturation procedures must be enhanced via regulations and rules formulated by the government," says Sun.

"Different from other industries, work experience and individuals' understanding are crucial. So, finding and training skilled and talented technicians is not easy," says Zhu.

Professional training and practice from apprenticeship to attaining the level of a technician should be concentrated.

"The apprentice will first learn medical theories, involving the structure of human body, corresponding relations between the 62 points and various human organs, as well as rubbing and kneading techniques," says Zhu.

"In a way, massage is a craft, hence, hard work and lots of practice are not essential having the gift, or perception, is."

To guarantee service quality and enhance Liangzi's image as a top-quality brand, Zhu pledges to staff each outlet with at least 15 high-level technicians.

Chen, who conducted research in traditional Chinese medicine for more than 20 years, believes training must be a priority.

"The customers are becoming more savvy, and they may have their own judgments," says Chen.




Today's Top News
Top China News

Cross-Straits ties threatened by protest




Kyrgyzstan gov't collapses after protest




Higher oil prices fuel tax-for-fee reform




Kim invites Chinese president for a visit




UK accuse US of grave rights violations




TOEFL ups the ante with online tests