Higher oil prices fuel tax-for-fee reform
(China Daily)
Updated: 2005-03-25 08:51
While the Chinese Government is still waiting for the right time to levy a tax on fuel used by vehicles, domestic oil prices have climbed again.
The prospect of continual increases in oil prices seems scary. Yet, if the replacement of road tolls with a fuel tax can be speeded up, soaring oil prices may turn out to be a blessing in disguise.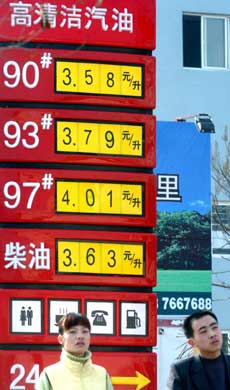 A billboard displays gasoline princes at a gas station in Zhengzhou, Henan Province March 23, 2005. [newsphoto]

They might persuade people to drive less or buy fuel-saving cars and encourage manufacturers to make such vehicles.

Chinese drivers saw an average rise of 0.25 yuan (US$0.03) a litre at domestic petrol pumps on Wednesday. The 8-per-cent hike of retail gasoline prices was the first of its kind since August, in response to world oil prices' ongoing surge to record highs.

People who oppose the early introduction of a fuel tax when oil prices soar seemingly found more reason to hold such a view. They believe extra tax on already expensive gasoline will make it too difficult to sell. This argument helped convince legislators to postpone again the tax-for-fee reform at the National People's Congress held earlier this month.

Prudence is not without merit in pushing through such a far-reaching tax reform. Closer reflection, however, reveals that such concerns are perhaps over the top.

China is the world's second-biggest oil user. Last year, the country consumed 290 million tons of crude oil, up 16.8 per cent on the previous year. Though no one would expect such phenomenal growth to continue, the country's overall oil demand will very likely remain strong for many years.

Meanwhile, China's output of crude oil reached 175 million tons, up by just 2.9 per cent year-on-year.

Clearly, the widening gap between oil output and oil demand is something the country must address quickly to continue its relatively fast, steady and sustainable development.

At the moment, two-thirds of the country's additional oil demand comes from the use of fuel by motor vehicles.

In 2004, China made 5 million vehicles, an increase of 14.2 per cent on the year before.

However, the actual growth rate has fallen sharply over the past two years as purchasing has pushed almost all domestic automakers to their capacity.

China's march towards being the largest country on wheels is unstoppable only if its oil tank is not empty.

The fuel tax is a major tool to boost fuel-saving awareness among both automakers and drivers via a smart price mechanism. The outdated road tolls have proved to be an inadequate way of proportionally taxing drivers in line with their consumption of fuel, the country's most wanted energy resources.

Higher oil prices can help remind car owners of the real cost of their driving. But only imposing a decisive fuel tax will persuade carmakers to produce more fuel-saving cars and domestic consumers to do away with their penchant for energy-consuming cars.

Besides, given the use of fuel for other purposes, for example, for farm machinery, a blanket fuel tax will incur an extra burden on other groups. They should be appropriately compensated.

Soaring oil prices already bite into all users' pockets but with little impact on the current extensive consumption. The latest gasoline price hike highlights again the urgency of fuel tax reform.




Today's Top News
Top China News

Cross-Straits ties threatened by protest




Kim invites Chinese president for a visit




Kyrgyzstan gov't collapses after protest




Higher oil prices fuel tax-for-fee reform




UK accuse US of grave rights violations




TOEFL ups the ante with online tests