Students preparing to take the Test of English as a Foreign Language (TOEFL) will be able to take the exam online from next year, it was announced yesterday.

The Internet-based test will help overseas institutions make informed decisions on prospective students.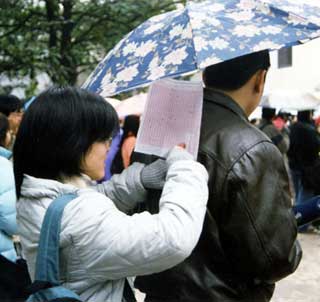 A woman fills in an application form to take TOEFL test in Nanjing, east China's Jiangsu Province in this December 20, 2001 file photo. [newsphoto]

It is also seen as a way to boost interest in TOEFL which has lost student numbers due to increased competition from other language training companies.

"[The new test] will help assess the readiness of students applying for foreign course work. It will also impact the teaching and learning of English worldwide," said officials from the US-based Educational Test Service (ETS).

The next-generation of TOEFL, aside from the present paper-based exam, will test students in reading, listening, speaking and writing.

ETS has co-operated with the Ministry of Education's National Examinations Authority throughout the 20 years of introduction of TOEFL into China.

The new TOEFL will be launched in the United States in September and then in Canada, France, Germany and Italy. The rollout schedule will be posted on the ETS website on November 1.

The charge of the new TOEFL has not yet been decided. Four online preparatory courses have been set up on the official ETS website.

TOEFL measures the ability of non-native speakers of English to use and understand North American English as it is used in US college and university settings.

The tests are required by more than 4,300 two and four-year colleges and universities, professional schools, and sponsoring institutions in the United States.

The number of TOEFL partici-pants in China has seen a sharp reduction in recent years due to competition from other English tests such as IELTS (International English Language Testing System) and GRE (Graduate Record Examination).

It is estimated that 10,000 people sat TOEFL tests in Beijing annually in the last two years, while the number had been as high as more than 100,000 previously.

Chinese are keen on various foreign tests which they believe will greatly help their future career and studies. The trend has attracted the attention of foreign testers and also created huge potential for the training sector.