Australia gets AFC nod to join Asian soccer group
(Agencies)
Updated: 2005-03-24 09:04
Asian soccer chiefs on Wednesday approved Australia's bid to move out of the Oceania soccer confederation and join its 45-nation Asian counterpart, pending approval by FIFA.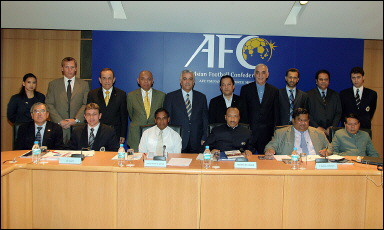 Asian Football Confederation President Mohammed bin Hammam (3rd R) poses for a picture with members of the confederation in Kuala Lampur. Australia's bid to join the Asian Football Confederation has won the organisation's backing, president Mohamed Bin Hamman announced. [AFP]

The Asian Football Confederation's executive committee, at its one-day meeting, has "unanimously approved the wishes of Australia to join the AFC," said AFC president Mohamed bin Hammam.

"It is beneficial for both Australia to join us in better competitions and for the AFC to have Australia with all its technical standards and capabilities," he told reporters.

Australia earlier this month declared its intention to quit the disparate, 11-member Oceania Football Confederation and join the AFC. The intention is to benefit from wider exposure and tougher matches in the Asian league, which could bring in higher revenues.

It will also give Australia a chance at direct qualification to future soccer World Cups. Presently, the top nation from Oceania qualification must play a home-away play off against the fifth-placed South American team to make the World Cup. Asia has four automatic spots, and the fifth team in qualifying goes into an intercontinental playoff against a European nation for another spot.

Hammam declined to say how long it might take for Australia to formally become a full member but indicated it might not be before next year.

Australia will still need to officially resign from Oceania, submit a membership application to the AFC and seek the approval of FIFA, soccer's world governing body, said AFC general secretary Peter Velappan.

"The AFC will wholeheartedly accept Australia as a member but there are a lot of statutory procedures still to be followed," he said.

FIFA spokesman Nicolas Maingot declined to indicate what FIFA's response would be.

"At the moment, these are talks between a confederation and a member association, and we don't intervene in that," Maingot said.

FIFA regulations state that a confederation might be authorized "in exceptional circumstances" to grant membership to an association that belongs geographically to another continent.

Hammam refused to speculate on whether New Zealand might also seek to leave Oceania for Asia.

"We are very heartened by the news that the Asian Football Confederation has endorsed our wishes to join them," Football Federation Australia chairman Frank Lowy said in a statement.

"It's a very positive step and we look forward to meeting with the AFC president on Saturday to discuss the next steps required for our transfer, and attend our historic matches against Iraq in Sydney and then Indonesia in Perth."

Australia's soccer federation has been overhauled dramatically in the last 12 months, with John O'Neill - chief organizer when Australia hosted the 2003 Rugby World Cup - taking over as chief executive, and wealthy businessman Lowy becoming chairman.

The domestic competition has been revamped and will kick off in August and the organizing body has been renamed the Football Federation Australia.

Soccer competes with Australian Rules, rugby league and rugby union in the Australian football market and has been a distant fourth in TV ratings and popularity at the domestic professional level.

Administrators have long considered a run to the World Cup finals would give soccer significant inroads in Australia.

The Socceroos have missed the last qualifying hurdle for the last two World Cups, losing to Iran on home-away goals before France '98 and to Uruguay at the last stage of qualifying for the 2002 finals in South Korea and Japan.

Hammam dismissed speculation that Asian soccer powers like Japan and Saudi Arabia might feel threatened by Australia's participation, saying "the arrival of Australia is going to increase the image and standards of Asian soccer."

Oceania is the smallest of FIFA's six confederations and the only one without a guaranteed direct entry to the World Cup.

It was formed in 1966, two years after the Asian confederation rejected membership applications from Australia and New Zealand.

With the exception of Australian and New Zealand, Oceania comprises mainly small Pacific island nations.




| | |
| --- | --- |
| | |
| Real edge past Malaga 1-0 | |

| | |
| --- | --- |
| | |
| T-Wolves beat Rockets 94-86 | |

| | |
| --- | --- |
| | |
| Lindsay Davenport | |
Today's Top News
Top Sports News

'Three-good' student system under revision




Japan's bid for UNSC seat opposed




Beijing unveils security plan for Olympics




Hu: Nation willing to restart nuke talks




EU official calls China embargo 'unfair'




Watchdog investigates baby oil fears