'Three-good' student system under revision
By Wang Ying (China Daily)
Updated: 2005-03-24 07:46
The "three-good" student honour system is being revamped after 50 years extolling the virtues of good morals, hard study and sporting excellence.
Several Chinese cities are piloting a new programme because the current system which was introduced in the 1950s and promotes and rewards "model tri-merit" pupils who excel morally, academically and physically is drawing increasing criticism.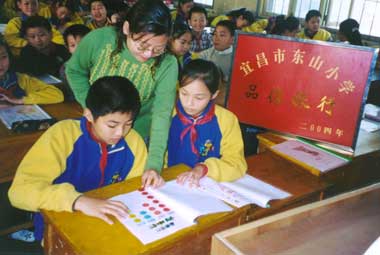 Students and teachers with Dongshan Primary School in Yichang, Hubei Province, apply a new system to encourage students to help others. This photo was taken on November 9, 2004. [newsphoto]

"A good student needs to be a good child within the family and a good citizen in society first," said Tan Renjie, director of the Education Bureau of Wuhan, capital city of Central China's Hubei Province.

The city is leading reforms and recently introduced a new "good student" programme, which includes studies and tests on three new aspects society, school and family.

"The new criteria is an extension of the old 'three-good' student awarding system, adding more practical assessment factors to promote students' self-discipline," Tan said.

Community service and "social practice, ability to arrange one's own daily life, work and rest on schedule, no money-spending sprees, respecting the elderly, good learning habit and teamwork spirit" are all taught.

Students start with self-assessments and are then appraised by their fellow students and teachers each semester.

"We want them to become good citizens, good students and good children," said Tan.

Since the issue was brought up last year, a number of schools in Shanghai, Beijing and some other cities are also putting emphasis on students' learning to grow as good citizens.

Critics say the "three-good system" is an elitist-throwback programme to the 1950s and rewards only a few students unfairly.

Pupils are regularly promoted and demoted according to their moral and "virtuous" behaviour, academic performance and physical prowess in sports.

When it was introduced in the 1950s, it was seen as force for good.

But the see-saw affect is today blamed for demoralizing many students and causing divisions in the classroom.

"The system becomes a bottleneck in promoting democracy in education because only a very small number of students can be awarded the title," said Gu Mingyuan, a professor with Beijing Normal University.

"The 'three-good student' award system brings more pressure on students and harms their mental health," Gu said.

Beijing high school student Xiao Xiao agrees.

He said: "This award gives students more harmful pressure than benefits.

"When I was awarded the 'three-good' title, I was envied by others, but when I lost the title, I felt very unhappy."

"It is hard to measure a student's morals and virtue attributes. And those with high physical education scores cannot readily be regarded as a person with other good qualities," Gu said.

In recent years, rising competition for high-school places has seen middle and primary schools focus on academic ability, turning out what educators are calling "one-good" students.

"Today, the most docile students with high academic scores often become 'three-good' award candi-dates," said Gu.

The Ministry of Education said it has been considering a more "down-to-earth" education curriculum, and introduce the all important moral education through daily activities such as helping with chores at home and in communities, ministry sources said.




Today's Top News
Top China News

'Three-good' student system under revision




Beijing unveils security plan for Olympics




Hu: Nation willing to restart nuke talks




EU official calls China embargo 'unfair'




Watchdog investigates baby oil fears




Japan's bid for UNSC seat opposed