Beijing unveils security plan for Olympics
By Li Jing (China Daily)
Updated: 2005-03-23 23:14
Beijing, the host city for the 2008 Olympic Games, yesterday gave details of its Olympic security scheme, which will play an over-arching role in preparations for the sports gathering.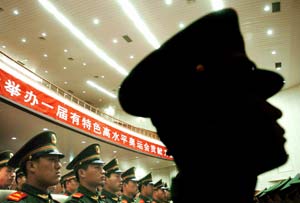 Chinese security personnel listen to a speech on security issues affecting the 2008 Olympics, in Beijing, March 23, 2005. The construction of the 2008 Olympic venues is in progress as the National Olympic Stadium, dubbed the "birds nest" because of its unusual design, will begin construction this week. [Reuters]


The massive scheme involves the participation of almost all the security organizations around the city.

This includes public security, national security and the armed police.

Safety departments at various work units and even drivers of subway trains, buses and taxis will be involved, said Qiang Wei, Beijing's deputy Party secretary.

He said Beijing would also work with the security organs of other countries - such as the United State, Germany, Britain, France and Russia - to enhance its defence against riots or terrorist attacks.

Qiang, also head of the co-ordination team organizing Olympic security that was established last December, made the remarks at a rally yesterday, which marked the implementation of the city's Olympic security masterplan.

But he did not reveal the budget for running the security scheme, which contains all-round protection in the air, on land and at sea for the Games.

Athens, which hosted the Olympic Games last year, spent more than 1 billion euros (US$1.3 billion) on security.

China's security programme could include security features similar to those used in Athens, which had a vast computer surveillance network with thousands of hidden cameras and microphones that analyzed dozens of languages.

"We should learn from Athens, which had an advanced security management system and high-tech equipment in order to ensure a safe environment for the Games," said Qiang.

The city has already dispatched five groups, involving a total of 39 people, to Athens to learn about its experiences.

"We do not want to turn Beijing into a fortress, but a place with an auspicious and peaceful atmosphere that will make athletes, coaches and visitors feel relaxed and safe," Qiang said.

Ma Zhenchuan, director of the Beijing Municipal Public Security Bureau, said apart from safety protection, providing a good service to participants was another priority task.

Ma said his bureau would carry out a seven-year language training programme, which started in 2001 when Beijing was picked to host the 2008 Summer Olympics.

He said Beijing police will encounter thousands of people who do not speak any Chinese during the 2008 Olympics.

"We have published a textbook of 'Olympic Security English' which mainly focuses on the handling of every possible problem that may happen during our security work for the Games," said Ma, who is a deputy head of the co-ordination team organizing Olympic security.

Ma said his team would set up two branches - the Olympic security command centre and the intelligence centre - by June this year.




Today's Top News
Top China News

Powell: China is not military threat to the US




Flood victims' families to get US$18,200 each




EU urged to lift 16-year China arms embargo




'Green Olympics' eyed for year 2008 Games




China steps up foreign exchange efforts




Energy saving key to growth - document