The country's health watchdog says it is following closely concerns over "Johnson & Johnson baby oil" after health scares in India.

It is reported a food and drug administration in a western Indian state ordered the New Jersey-based personal hygiene company to drop the "baby" tag from several of its products last week, claiming they contain harmful ingredients such as paraffin oil.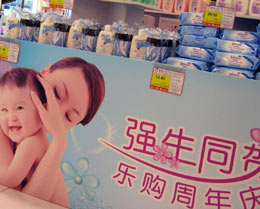 Johnson & Johnson's products in a supermarket in Shanghai [newsphoto]
Ministry of Health spokesman Mao Qun'an said the government had received a statement from the company's operation in China after requesting information about its products, including details of raw materials used and the process of quality control.
"We will study the papers first and then decide what to do next. If necessary, the ministry will organize related experts to do some further research and investigation," said Mao.
Zhang Jianmin, director of Johnson & Johnson's (China) public affairs department, said its products used only those oils stipulated by its headquarters in the US.
"We are using a pure grade of mineral oil, which meets Johnson & Johnson's worldwide specifications and has been clinically proven to be mild, gentle and safe for babies," said Zhang.
"Though the mineral oil is extracted from paraffin oil, it conforms to the hygiene regulation of the cosmetics issued by the Ministry of Health," added Zhang, who issued a statement from Johnson & Johnson, stating it "always manufactures its products according to the local standards, like baby powder and baby soap." However, said the statement, for those products that have no local standards, including baby oil and baby cream, all "meets Johnson & Johnson's own stringent global standards."
He said the company's operations in India are studying the notice from local health authorities and will respond within the stipulated period.
Johnson & Johnson says it is the world's most comprehensive and broadly based manufacturer of healthcare products, as well as a provider of related services, for the consumer, pharmaceutical and medical devices and diagnostics markets.
The more than 200 Johnson & Johnson operating companies employ approximately 109,900 men and women in 57 countries and sell products throughout the world.