President Hu Jintao reiterated yesterday that China, together with all parties concerned, is willing to play a constructive role in reviving the stalled Six-Party Talks.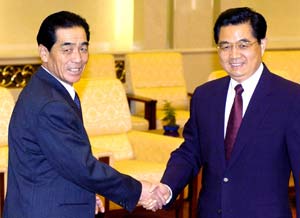 Chinese President Hu Jintao (R) shakes hands with North Korean Premier Pak Pong-ju at the Fujian Hall in the Great Hall of the People in Beijing March 23, 2005. [Reuters]
Hu made the remarks when meeting with visiting Pak Bong-ju, premier of the Democratic People's Republic of Korea (DPRK).
Hu said that dialogue is the only correct choice for peacefully resolving the nuclear issue on the Korean Peninsula.
"It is in our common interests to stick to a nuclear: weapon-free Korean Peninsula, resolve DPRK's rational concerns, and maintain peace and stability on the peninsula," Hu said. China will continue to work for the resumption of the Six-Party Talks, which aim to find a peaceful solution to the nuclear issue but which came to a standstill last September.
Hu said the talks' aims tally with the common interests of all sides: To resolve the concerns of DPRK as well to maintain a peaceful and stable nuclear-weapon-free Korean Peninsula.
"China will continue to promote peaceful negotiation, which is the only proper option in dealing with nuclear issues on the Korean Peninsula," Hu added.
Pak expressed appreciation towards China's efforts in safeguar-ding the peace and stability of the Korean Peninsula, and said the DPRK would like to learn from China's experience of reforms in national development.
After their meeting, talks were also held between Pak and Jia Qinglin, chairman of the National Committee of the Chinese People's Political Consultative Conference.
President Hu and DPRK leader Kim Jong-il have reached an important consensus on bilateral ties and many other issues of common concern, Jia said, adding that it is in the common interests of both sides to consolidate and develop their friendship.
The DPRK highly appreciates China's policy of friendship and is ready to join hands with China to make unremitting efforts to expand the friendship forged by the previous leaders, Pak said.
On Tuesday, Pak told his Chinese counterpart, Wen Jiabao, in Beijing that the DPRK would join Six-Party Talks on the nuclear issue "at any time" if conditions proved to be right.