Shooting spree teen obsessed with Nazi
(Agencies)
Updated: 2005-03-23 16:05
High-school students on a Native American reservation have told how a classmate burst in on them during afternoon lessons and opened fire in the worst school shooting in the United States for six years.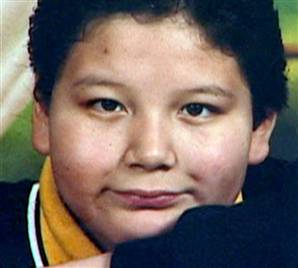 Jeff Weise, now 16 or 17, is shown in an undated family photo. He allegedly killed nine people in a shooting spree Monday before killing himself. [AP]


Police said that 16-year-old Jeff Weise, a disaffected Native American student fascinated with Nazi ideology, who called himself Todesengel (German for "angel of death") in internet chat rooms, shot dead his grandparents before driving to the school - from which he had been recently suspended - to kill five students, a teacher and a security guard. He then turned one of his guns on himself.

At least 14 other people were wounded, and two of them remained in critical condition in hospital last night. Officials said some of Weise's victims were killed at close range.

Reggie Graves, a student at Red Lake High School in northern Minnesota, said he was in class watching a film about Shakespeare when he heard Weise shoot his way past the metal detector at the school's entrance, where an unarmed guard was killed.

In a nearby classroom, he heard Weise talking to another student - a boy called Ryan. "He asked Ryan if he believed in God," said Reggie. "And then he shot him."

The death toll in the Red Lake Indian Reservation, 60 miles south of the Canadian border, made it the worst school shooting since the 1999 killings at Columbine High School in Colorado, in which two students killed 12 of their classmates and a teacher before killing themselves.

While police did not give a motive for the killings, there was evidence that Weise was interested in Nazi ideology and what he considered to be the denigration of his tribe, the Red Lake Chippewa.

Students described him as a loner and an outsider, and officials said he had been recently suspended and placed on a home-tutoring programme.

Weise lived on the reservation, among the poorest in the region, with his grandfather and his grandfather's partner. His father committed suicide four years ago and his mother is in a nursing home in Minneapolis after a traffic accident left her with brain damage.

Weise regularly used a neo-Nazi internet message board, sometimes using the names NativeNazi or Todesengel. He admitted to admiring Adolf Hitler and, in a posting last July, he wrote: "Most of the Natives I know have been poisoned by what they were taught in school. The basic 'Nazi = Bad, Jew = Good. Defend Jew at all costs'. You get the idea, the public school system has done more harm than good, and as a result it has left many on this reservation misled and misinformed."

Officials said the killing spree began on Monday afternoon when Weise killed his grandfather, a sergeant with the tribal police force. Weise then took his grandfather's gun and bullet-proof vest and drove his police car to the school. He killed an security guard at the school gates before making his way towards the classrooms.

An FBI special agent, Michael Padman, said CCTV cameras showed Weise entering the school, though the footage showed none of the shootings. He said Weise had used more than one weapon. He said there was no evidence that Weise had any sort of accomplice.




| | |
| --- | --- |
| | |
| Whitney Houston re-enters rehab | |

| | |
| --- | --- |
| | |
| Anita Mui named best-selling singers | |

| | |
| --- | --- |
| | |
| A happy lemur family in Buenos Aires Zoo | |
Today's Top News
Top Life News

'Three-good' student system under revision




Japan's bid for UNSC seat opposed




Beijing unveils security plan for Olympics




Hu: Nation willing to restart nuke talks




EU official calls China embargo 'unfair'




Watchdog investigates baby oil fears