Rockets defeat Heat 84-82
(Agencies)
Updated: 2005-03-23 14:41
Tracy McGrady scored 26 points and the Houston Rockets snapped the Miami Heat's 12-game winning streak with an 84-82 victory Tuesday night.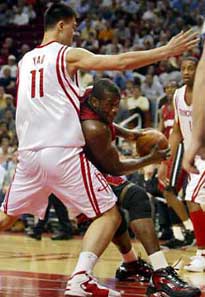 Miami Heat center Shaquille O'Neal cuts underneath Houston Rockets center Yao Ming as he goes to the basket during first period NBA action March 22, 2005 in Houston. [Reuters]

David Wesley scored 14 points, Yao Ming and seldom-used forward Clarence Weatherspoon added 12 and aging center Dikembe Mutombo gave the Rockets a lift off the bench to keep the NBA's top-scoring twosome of Shaquille O'Neal and Dwyane Wade in check.

McGrady, who scored a total of 37 points and shot just 27 percent in the previous two games, struggled again to find his shot, going 8-of-27, but made all the clutch plays down the stretch.

During one late sequence, McGrady scooped up a loose ball, beat Eddie Jones with a crossover dribble and drilled a deep 3 that gave Houston a 74-62 lead with fewer than 6 minutes left. He followed that with another 3, and later whipped a crosscourt pass to Mike James for an assist on his 3 to put Houston up 80-72 with 40.5 seconds to go.

But the Rockets nearly fumbled away the win with a couple of silly mistakes in the waning seconds of the game.

James missed four straight free throws and Miami's Damon Jones made a 3 and completed a four-point play, cutting Houston's lead to 80-79 with 14.3 seconds left.

Wesley saved the victory by making a couple of free throws, and McGrady made one to finish off a thrilling upset of the league's top team.

O'Neal led Miami with 23 points and 16 rebounds, getting the best of his personal rivalry with Yao. Wade added 20 on just 4-of-19 shooting and Jones had 16 points and seven rebounds.

The loss denied the Heat's bid to tie their franchise-record 14-game winning streak, an impressive run that went from Dec. 6-Jan. 1 and put them in position to seize the league's best record (52-17).

Miami was playing without starting power foward Udonis Haslem, who sat out Tuesday night's game because of a slightly separated left shoulder. Michael Doleac took his place in the starting lineup, and had six points and five rebounds.

But the Heat clearly missed Haslem's fierce play under the basket, and the undersized Rockets nearly battled Miami to a tie under the boards — 46-45 — despite a subpar effort by Yao.

Yao had 12 points and nine rebounds, playing only 25 minutes because of foul trouble. He eventually fouled out with 59.8 seconds to go after hacking O'Neal on a dunk.

Improbably enough, it was the 38-year-old Mutombo who provided the Rockets with the imposing post presence they needed.

Mutombo tied a season-high with 15 rebounds, eight of them offensive, and patrolled the lane with the vigor of the guy who used to wag a finger at opponents who dared attack the basket.

The Rockets clearly fed off the energy from their raucous sellout crowd — a season-best 18,292 — and a few close calls by officials that seemed to make them even more aggressive.

Mutombo was whistled for a technical late in the third quarter after complaining about a foul on O'Neal. After the call, Mutombo held up both arms in disbelief and the Rockets' bench and fans exploded in protest.

"He was mocking me with his smile," official Joe Crawford explained to incredulous Houston coach Jeff Van Gundy.

But Wade missed the subsequent free throw and O'Neal followed with three misses of his own, and the Rockets finished off the quarter on a 12-0 run that put them ahead 61-55. Houston never trailed again.

Houston coach Jeff Van Gundy evened his record against his brother, Miami coach Stan Van Gundy, at 2-2. ... Miami placed forward Christian Laettner on the injured list with a right foot injury and activated center Wang Zhi-Zhi on Tuesday. Wang and Yao were teammates on the Chinese Olympic team in 1996 and 2000, part of a threesome known as the "Walking Great Wall." ... The Heat hadn't lost in regulation since Feb. 1 at Dallas. Their only losses in the previous 21 games came in overtime when O'Neal was out with an injury. ... Shaq has now won eight of 13 games against Yao, including a five-game playoff series victory last year with the Lakers.




| | |
| --- | --- |
| | |
| Real edge past Malaga 1-0 | |

| | |
| --- | --- |
| | |
| T-Wolves beat Rockets 94-86 | |

| | |
| --- | --- |
| | |
| Lindsay Davenport | |
Today's Top News
Top Sports News

Pak: DPRK ready to return to nuclear talks




EU urged to lift 'outdated' arms embargo




Official on trial for selling high-level jobs




Thirsty countryside demands safe water




Beijing makes a perfect FORTUNE forum




Textile firms to take EU ruling to WTO