Serena makes time for Key Biscayne
(Agenices)
Updated: 2005-03-23 10:29
Serena Williams is on the phone discussing her favorite subject — herself — and so the conversation is lively.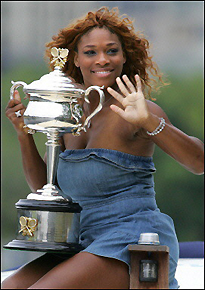 Serena Williams, pictured with her trophy after the Australian Open, says she has no plans to return to Indian Wells after being viciously booed there four years ago. [AFP]

She talks about winning the Australian Open in January, and about bidding for a fourth consecutive Key Biscayne title beginning this week at the Nasdaq-100 Open. She mentions her acting career, her fashion business and her latest tennis outfits.

But when the topic switches to Maria Sharapova, the discussion stalls. Williams claims she only vaguely remembers the first time she played Sharapova — at Key Biscayne last year.

"I don't think you realize," Williams says. "I have a fashion company. I'm working on a really intense line for the fall. I'm an actress. I'm working on an animation series, on different reality series. I'm working on so much stuff."

With a giggle she adds, "I don't really think about other people, because I have to focus on me. I don't think about Sharapova or anyone else on the tour. I don't have time."

Williams' self-absorption has never been questioned, but there have been doubts about her devotion to tennis. She claims it's her No. 1 priority in 2005, and tennis fans can be grateful she wants to wedge a few matches at the Nasdaq-100 Open into her busy schedule.

Potential obstacles for Williams will include a bevy of Russians, among them Wimbledon champion Sharapova, and two Belgians — Kim Clijsters, who won at Indian Wells last week, and Justine Henin-Hardenne, who has recovered from viral and knee ailments and is scheduled to play in her first tournament since the U.S. Open. Amelie Mauresmo is seeded No. 1.

The men's field includes top-ranked Roger Federer and defending champion Andy Roddick. The only top players absent in either draw are No. 1-ranked Lindsay Davenport, curtailing her schedule due to her history of knee trouble, and No. 2 Lleyton Hewitt, sidelined with sore toes.

The Nasdaq-100 Open will be just the fourth tournament this year for Williams, but an 18-match winning streak at Key Biscayne makes her the favorite. She won last year in a triumphant return from an eight-month layoff that followed knee surgery.

"I've never, ever been shocked about a win, but I was shocked I won the tournament," she says. "I didn't practice before, and my knee was killing me in some of the matches."

The ailing knee contributed to an 18-month Grand Slam drought for Williams that ended in January at the Australian Open, where she won her seventh major title. In the final she came from behind and swept the last nine games to beat Davenport.

"At the end I just became a real focused demon. No one was going to win that match but me," Williams says. "That's how I felt at the end, and that's how it was."

Williams then played at Paris but withdrew before her quarterfinals match because of stomach flu. Her only other tournament this year was three weeks ago at Dubai, where she retired from a semifinal match against Jelena Jankovic with a strained tendon in her right shoulder.

Williams says the shoulder is fine, and she's ready for a run in an event just 90 minutes down Interstate 95 from her Palm Beach Gardens home.

"I'm very eager to get back out there and start playing matches, especially because it's Miami, because it's my hometown and I get to show my stuff," she says.

Federer will be far from his native Switzerland but also eager to show his stuff in a tournament he has yet to win. He has won 42 of his past 43 matches, including a victory Sunday over Hewitt in the Indian Wells final, and he rivals Williams when it comes to confidence.

"I dig much deeper than I used to," Federer says. "Being a set down doesn't bother me anymore. Before I would get frustrated and totally change my game, and everything would be kind of in a panic mode. That doesn't happen anymore."

Play begins Wednesday in the 12-day, $6.56 million tournament, which has a field of 96 men and 96 women. The 32 seeded players in each draw receive a first-round bye.




| | |
| --- | --- |
| | |
| Milan defeat Roma 2-0 | |

| | |
| --- | --- |
| | |
| Real edge past Malaga 1-0 | |

| | |
| --- | --- |
| | |
| Lindsay Davenport | |
Today's Top News
Top Sports News

Pak: DPRK ready to return to nuclear talks




EU urged to lift 'outdated' arms embargo




Official on trial for selling high-level jobs




Thirsty countryside demands safe water




Beijing makes a perfect FORTUNE forum




Textile firms to take EU ruling to WTO