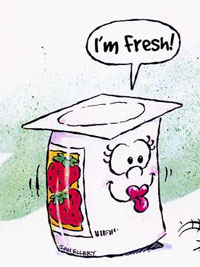 Natural yoghurt beats bad breath
Sugarless yoghurt could help beat bad breath, tooth decay and gum disease, say scientists.
Japanese researchers found eating the yoghurt reduced levels of hydrogen sulphide - a major cause of bad breath - in 80% of volunteers.
The key are active bacteria in yogurt, specifically Lactobacillus bulgaricus and Streptococcus thermophilus.
Details were presented at a meeting of the International Association for Dental Research.
A total of 24 volunteers who took part in the study were given strict instructions on oral hygiene, diet and medication intake.
They spent two weeks avoiding yoghurts and similar foods, like cheese.
Researchers then took saliva and tongue coating samples to measure bacteria levels and odour-causing compounds, including hydrogen sulphide.
The volunteers then ate 90 grams of yoghurt a day for six weeks.
At the end of the study, researchers took samples again. They found hydrogen sulphide levels decreased in 80% of participants.
Levels of plaque and the gum disease gingivitis were also significantly lower among yoghurt eaters.
Dr Nigel Carter, chief executive of the British Dental Health Foundation, said: "The foundation has long been drawing people's attention to sugar-free yoghurts as a healthy snack, so it is pleasing to hear that it may have oral health benefits we were previously unaware of.
"Frequent consumption of sugary snacks is the principal cause of tooth decay, which can cause a great deal of pain and discomfort.
"Although this research is still in the early stages there is no doubt that sugar-free yoghurts provide a much healthier alternative to sweets and chocolate, and we would encourage snackers to incorporate them into their diet."
One in four people suffer from bad breath regularly, while 19 in 20 are affected by gum disease at some point in their lives.
However, Dr Carter stressed that the best way to beat bad breath was by adopting a good oral health routine. This involves brushing twice-a-day with fluoride toothpaste, cutting down on the frequency of sugary snacks and drinks, flossing daily and visiting a dentist regularly.

(Agencies)
科学家们发现,无糖酸奶有助于减轻口腔异味、蛀牙和牙龈疾病。
日本研究者们发现多喝酸奶可以减少80%的受试者体内的硫化氢含量,而硫化氢是口腔异味的主要诱因。
酸奶有助于缓解口臭的关键在于酸奶里的活性细菌,尤其是乳酸菌和喜温的链球菌。
详细的研究结果是在国际牙科研究协会的一次会议上公布的。
共有24名志愿者参与了这项研究,研究者们在口腔卫生、饮食和药物服用等方面对他们提出了严格的要求。
他们在两周内禁食酸奶和奶酪等类似食物。
然后研究者们提取了他们唾液和舌苔的样本,用于测量(口腔内的)细菌水平和能诱发异味的化合物,如硫化氢。
志愿者们在接下来的六周内每天饮用90克酸奶。
在研究快结束时,研究者们再次采集了样本。他们发现80%的受试者口腔内的硫化氢含量有所降低。
此外,在饮用酸奶的受试者当中,牙菌斑和牙龈炎的发病率也显著降低。
英国牙科保健基金会负责人奈杰尔·卡特医生说:"基金会一直在努力激发人们对无糖酸奶这种健康零食的兴趣,因此我们很高兴听到它能促进口腔健康,这是我们以前没有意识到的。"
"频繁摄取含糖的零食是蛀牙形成的主要诱因,给人们带来了很大的痛苦和不便。"
"尽管这项研究仍然处于初级阶段,毫无疑问的是,无糖酸奶是比糖果和巧克力更健康的替代品。我们应该鼓励零食爱好者们把它作为日常饮食的一部分。"
每四人中会有一人经常受到口腔异味的困扰,而每20人中就有19人在生命的某一阶段受到牙龈疾病的侵袭。

然而,卡特医生强调防治口臭的最好方法还是养成良好的口腔卫生习惯。包括每天使用含氟化物的牙膏刷牙二次,减少含糖零食和饮料的摄入量,每天使用牙线清洁牙齿,并定期拜访牙医。

(中国日报网站译)