Iran says won't drop nuke plans
(Agencies)
Updated: 2005-03-23 09:49
Iran vowed on Tuesday, ahead of key talks with three European powers, to press ahead with its nuclear fuel program despite U.S. fears it may be planning to develop bombs.
"The people and government of Iran are determined to open their way through the tortuous path of the peaceful use of nuclear technology despite all the imposed restrictions and difficulties," Mohammad Saeedi told a nuclear energy conference.
Saeedi, vice president of the Atomic Energy Organization of Iran, spoke a day before officials from Iran, France, Britain and Germany meet in Paris to review three months of talks on Tehran's atomic plans that ended in a standoff.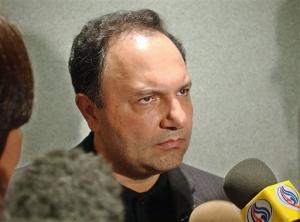 Mohammed Saeidi, vice president for planning and international affairs at the Atomic Energy Organization of Iran, talks to reporters after he delivered a speech in Paris Tuesday, March 22, 2005, on the second day of a conference on the future of nuclear power gathering government energy ministers and envoys from more than 60 countries. [AP]
The European Union's "big three," sharing U.S. suspicions that Tehran may be planning to develop nuclear arms, are offering Iran political and economic incentives to give up its uranium enrichment program.
EU diplomats, speaking on condition of anonymity, said they did not expect Iran to back down and the EU was in no position to compromise because the United States has recently backed its position.
"The best that can come out of this meeting is an agreement to keep talking," said a diplomat close to the talks.
The EU diplomats said they expected the talks to last one day. But Iranian officials, who also declined to be identified, said the negotiations would probably take at least two days.
Saeedi said in his speech that Iran was determined to pursue a complete nuclear program to meet rising energy demand caused by an increase in living standards in the Islamic republic.
He said the program would include "the provision of nuclear fuel" and the completion of a heavy-water research reactor that would be able to produce substantial amounts of bomb-grade plutonium.
Saeedi said Iran intended to produce only low-grade enriched uranium fuel for peaceful power plants, not highly enriched fuel for weapons.
IRAN MAY PULL OUT OF TALKS
Hossein Mousavian, a senior nuclear negotiator, told Iranian state radio Tehran would consider ending the talks if Wednesday's review decided no progress had been made.
"If the committee's report shows that there has been tangible and specific progress in the talks with the EU3, then we will continue it for three more months.
"But if the report shows the other party has been wasting time, we will reconsider the process of talks with the Europeans," he said.
The Iranians have refused to give up their enrichment program, and have offered instead to permit increased inspections by the U.N. International Atomic Energy Agency and to limit the enrichment to very low levels.
The Europeans reject this and want the program stopped and dismantled -- a position strengthened by the official backing of the United States for the offer of incentives if Iran will end uranium enrichment.
"We both have our entrenched positions," said a Western diplomat close to the talks. "With the Americans on board, the EU three couldn't move if they wanted to."
Iran has suspended its uranium enrichment program as a confidence-building gesture but has repeatedly said this freeze will be short-lived.
The EU has said that if Iran resumes enrichment it will support a U.S. plan to refer Tehran's case to the U.N. Security Council, which could impose painful economic sanctions.
Today's Top News
Top World News

Pak: DPRK ready to return to nuclear talks




EU urged to lift 'outdated' arms embargo




Official on trial for selling high-level jobs




Thirsty countryside demands safe water




Beijing makes a perfect FORTUNE forum




Textile firms to take EU ruling to WTO