Explosion north of Beirut kills one
(Agencies)
Updated: 2005-03-23 09:02
An explosion rocked a Christian area north of Beirut early Wednesday, killing at least one person and wounding two others, police said.
Police had no immediate word on what caused the blast near Jounieh, the main Christian port city 10 miles north of Beirut's center.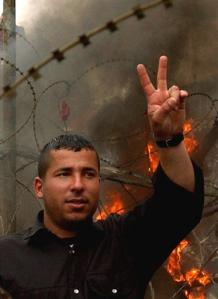 An anti-U.S. Lebanese protestor gestures with his hand during a demonstration near the U.S. Embassy in Aukar northeast of Beirut, Lebanon, Tuesday March 22, 2005. [AP]

LBC TV, the leading station in the country, said three people were killed and two wounded in the blast, which occurred shortly after midnight.

The explosion came amid major political turmoil in Lebanon in the wake of the Feb. 14 assassination of former Prime Minister Rafik Hariri, and the subsequent withdrawal of Syrian troops to east Lebanon and Syria. Demonstrations and counter-demonstrations, although largely peaceful, have kept tension high between the pro-Syrian and the anti-Syrian camps.

Early Saturday, a car bomb in a northern Christian suburb of Beirut injured nine people.




Today's Top News
Top World News

Pak: DPRK ready to return to nuclear talks




EU urged to lift 'outdated' arms embargo




Official on trial for selling high-level jobs




Thirsty countryside demands safe water




Beijing makes a perfect FORTUNE forum




Textile firms to take EU ruling to WTO