Ferguson "sackable" says United CEO
(Agencies)
Updated: 2005-03-23 08:38
Manchester United manager Sir Alex Ferguson is "sackable", the club's chief executive David Gill said after the club announced a 54-percent slump in half-year profits to 12.4 million pounds.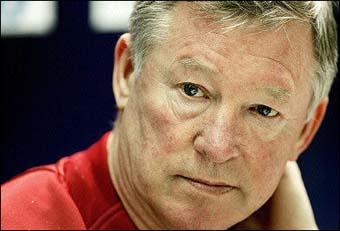 Manchester United boss Sir Alex Ferguson attends a press conference in Milan. United chief executive David Gill said Ferguson is 'sackable' after the club announced a 54-percent slump in half-year profits to 12.4 million pounds.[AFP]
Ferguson has amassed eight league titles, five FA Cups and a European Cup since taking charge of United in 1986.
But unless leaders Chelsea suffer a huge drop in form over the next eight games, United will fail to win the Premier League title in successive seasons for the first time since the competition was formed in 1992.
They are also out of the Champions League and with 63-year-old Ferguson moving onto a rolling one-year contract in the summer, which can be terminated by either party, Gill made it clear that the legendary Scottish boss would not have a totally free hand in deciding when his career ended.
And while Gill stressed there were no plans to dismiss Ferguson, he told BBC Radio Five Live: "He is sackable. We live in a very pressurised sport. The pressure will be on next season and we wouldn't want that pressure not to be there.
"But (removing the manager) is not something that has entered our discussions at boardroom level. It would be detrimental to the club to make a knee-jerk reaction for not winning the league for a second season in a row.
"The manager's record is second to none, we still have a chance of winning a major trophy this season in the FA Cup, and we are very positive about the future."
However, the United board will hope the club finish in second place in the Premier League as this means they will secure 30 percent of the central Champions League pot for English clubs as opposed to the 15 percent on offer to the side which ends up in third place.
United cited lower revenues from television deals and European football matches as a reason for their figures.
The pre-tax figure was more than half of the 26.8 million pounds recorded for the same period last year.
That also reflected a higher wage bill as the group's finances were hit by the transfers of England duo Wayne Rooney and Alan Smith, and Argentinian defender Gabriel Heinze.
Rooney, 18, was sign from Premiership rivals Everton in August in a 27 million pound deal.
United, currently second in the English Premiership, are the subject of a potential takeover bid from US sports tycoon Malcolm Glazer, amid fierce opposition from its loyal fanbase.
A lacklustre performance this season has seen Manchester United exit the European Champions' League and effectively surrender their chase of Premiership league leaders Chelsea.
"A challenging first half to the year was made even more difficult by the continued speculation surrounding a possible offer for the company," chief executive David Gill said.
"The team has been strengthened through signings and contract extensions and our aim is to continue to grow the business despite the tougher market conditions."
The club said last September that a decline in media revenues was expected, partly due to the Premiership's new three-year television contracts.
Consequently, operating profits fell 28.5 percent to 28.4 million pounds in the six months to January.
The figure, which does not take account the depreciating value of players, was down on last year's 39.7 million pounds.
Sales turnover dropped 0.9 percent to 91.6 million pounds during the period.
"We remain focused on looking after the interests of all our stakeholders for the benefit of our shareholders by being the best on and off the field," Gill added.
Last February, US billionnaire Glazer's latest bid to take over the English football giants was met with resistance when the club's board said it would be "unlikely to recommend" it to shareholders were it to become a formal offer.
Glazer, whose family owns 28.8 percent of United's shares, was planning an offer of 300 pence per share in cash with a minimum 75-percent acceptance level which would give him complete control of the club.
United's board said last month that Glazer's latest plan would not involve the club being burdened with as much debt as was envisaged in his previous October proposal -- a major stumbling block back then.
The owner of NFL franchise the Tampa Bay Buccaneers, Glazer's bid for United is worth some 800 million pounds.
Meanwhile, the club faced a challenge on the pitch following its recent performances.
"The disappointing recent exit from the UEFA Champions League against AC Milan leaves the team facing the challenge of retaining the FA Cup and pursuing Chelsea in the FA Premier League," United chairman Roy Gardner said.
| | |
| --- | --- |
| | |
| Real edge past Malaga 1-0 | |

| | |
| --- | --- |
| | |
| T-Wolves beat Rockets 94-86 | |

| | |
| --- | --- |
| | |
| Lindsay Davenport | |
Today's Top News
Top Sports News

Pak: DPRK ready to return to nuclear talks




EU urged to lift 'outdated' arms embargo




Official on trial for selling high-level jobs




Thirsty countryside demands safe water




Beijing makes a perfect FORTUNE forum




Textile firms to take EU ruling to WTO