300m Chinese have no access to safe water
By Liang Chao and Qin Chuan (China Daily)
Updated: 2005-03-23 00:11
More than 300 million rural Chinese need safe drinking water, the government was told Tuesday.
Zhai Haohui, vice-minister of water resources, called for more funds from government coffers to made available.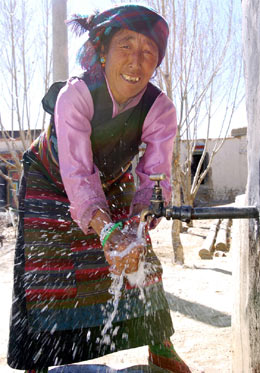 Farmer Puchi washes her hands with tap water outside her home in Xigaze, the Tibet Autonomous Region March 22, 2005. The central government has injected 400 million yuan in providing 500,000 Tibetans with clean drinking water since 2001. [Xinhua]

"Priorities of the government investment should be given to the construction of more projects capable of supplying clean drinking water for all people throughout China, particularly, millions of rural people plagued by unclean drinking water," said Zhai Tuesday, World Water Day.

The country is ready to launch a long-term project to deal with the lack of clean water, a headache threatening the health of some 360 million rural people, or about one third of the whole rural population.

"By the end of 2020, we are going to reach the goal of basically providing safe drinking water for all rural people," Zhai said.

Polluted water spreads infectious intestinal and parasitic diseases, particularly the killer schistosomiasis of snail fever.

He said funds earmarked for such facilities should be raised in a variety of ways with preferential policies adopted for land-use, electricity supply and tax revenue.

"Only less than 40 per cent of the sections of China's seven major rivers monitored in 2003 reach the standards for drinking water while merely a quarter of checked 28 key lakes and reservoirs were up to the criteria," Zhai said.

Groundwater is a major source of drinking water for many cities. But among those supplies checked in 44 cities, 95 per cent of them were polluted, some with sewage, according to a 2003 survey by State Environmental Protection Administration.

"People have the right to know such challenges face them while the authorities must rehabilitate clean water sources," said Pan Yue, vice-minister of the State Environmental Protection Administration.

It was estimated that more than 63 million rural people in northern China, as well as across the Huang-Huai-Hai plains have to drink water with a high fluorine content.

The health of about 2 million people has reportedly been affected by diseases related to drinking water with high arsenic content in parts of the Inner Mongolia, Shanxi, Xinjiang, Ningxia and Jilin.

Drinking water with high arsenic content can lead to several types of cancer and salty water has also become a threat to some 38 million rural residents in northern and eastern coastal areas.

Diversion project forum

More than 70 experts from home and abroad attended a symposium in Beijing Tuesday about the research programme on sustainable water integrated management of the eastern route of the South-North Water Diversion Project.

The giant water diversion project was started in late 2002, and aims to satisfy demand in the country's northern regions by diverting water from the Yangtze River, in the south, to the north through eastern, central and western routes.

When wholly completed in 2050, the project, involving an investment of nearly 500 billion yuan (US60 million), will bring 44.8 billion cubic metres of water to 300 million people in the north each year.

The research programme, launched last year and to be completed nest June, is a joint effort by Chinese Academy of Social Sciences, China's Ministry of Water Resources, China Meteorological Administration, and the Italian Ministry for the Environment and Territory.

It is among a series of Sino-Italian co-operative programmes in environmental protection.

"It studies the impact of the project on the environment, earth, vegetation, climate and economic and social development along the east and tries to work out the best water management method while learning from advanced international experiences," said Li Ping, an expert with the Chinese Academy of Social Sciences.




Today's Top News
Top China News

Pak: DPRK ready to return to nuclear talks




EU urged to lift 'outdated' arms embargo




Official on trial for selling high-level jobs




Shooting spree teen obsessed with Nazi




300m Chinese have no access to safe water




Watchdog urges users to block sina.com